Moms always find it challenging to give their girls a beautiful hairstyle that is not just stylish but can also be styled pretty easily. Obviously, it's hard for one to spare time from their busy morning routines and the best thing you can do is to look for easy hairstyles for long hair for school. Fortunately, there are some amazing school hairstyles for girls that take only a few minutes to style and look super cool as well. Above all, they don't breach the school code and nobody would object to them.
Easy Hairstyles For Long Hair For School To Achieve A Classic Look Within Minutes
If you have long been waiting to find the coolest school hairstyles, here we have the latest collection. Here you'll find some amazing looks that will be trending this year and beyond. Let's check out.
Combed Back With Fishtail Braid
Credit:@metamorfose.dorien/Instagram
This is the one of the best , most stylish and simple look that you can sport at school. The hairstyle requires fine, medium length hair and will look gorgeous with a perfect combed back look. There is a fishtail braid created on a section of hair at the back and it ends up into a nice little ponytail. A perfect hairstyle overall.
Reverse Braided Hair Bun
A beautiful hairstyle that won't take more than 5 minutes to achieve, it really is one quick morning hairstyle. It's stylish and will work for school too. Just start braiding at the nape of the neck and secure it at the crown into a cool hair bun. Keep it combed back on top.
Simple Hairstyle With Back Twist
Credit: @hairrrbyanisha/Instagram
This is a cool and simple look to achieve for girls with medium-to-long voluminous hair. Just comb it all back and form a cool twist at the crown by grabbing strands from either side of the head. It's that simple.
Wrap-Around Hairdo
Photo: Marcela Duran/Pinterest
A cool little wrap around is all you need for school. The hairstyle is tailor made for girls with long, wavy hair and makes a statement on any day. Just comb it back, twist the strands on the sides and wrap them low at the back.
Plait Half Up Hairstyle With Braided Tail
This hairstyle may need you to put in a bit of effort to achieve it to perfection. Still, it won't take you an entire day to style. The hair on top is given a side-swept look while the frontal bangs is formed into a thick twisted braid that goes through a side and ends up at the crown before being formed into a thick fishtail braid.
Cool Hair Bow
Always loved hairstyles with hair bows? Does it look more like a school hairstyle? Here's a cool variation for you. Just comb it back at the front and form a cool hair bow at the back just where the crown is. Leave the rest of the hair open and it will look just amazing. You won't find many easy hairstyles for long hair for school like this one.
Twist Braided Ponytail
This is another cool look to achieve for school and you can get it done in four simple steps. Combed back at the front and styled with a thick twisted braid at the back, this hairdo looks pretty organized and stylish. It really makes a perfect choice for any day but it also works for school too.
Braided Crown With Long Open Hair
If you have the luxury of length, you may want to leave it all open on all sides of the head. The hair on top is braided into a cool crown that ends a bit low at the back. Once secured perfectly, the hairstyle will make gorgeous vibes and you can wear it to school on any day.
Simple Side Twist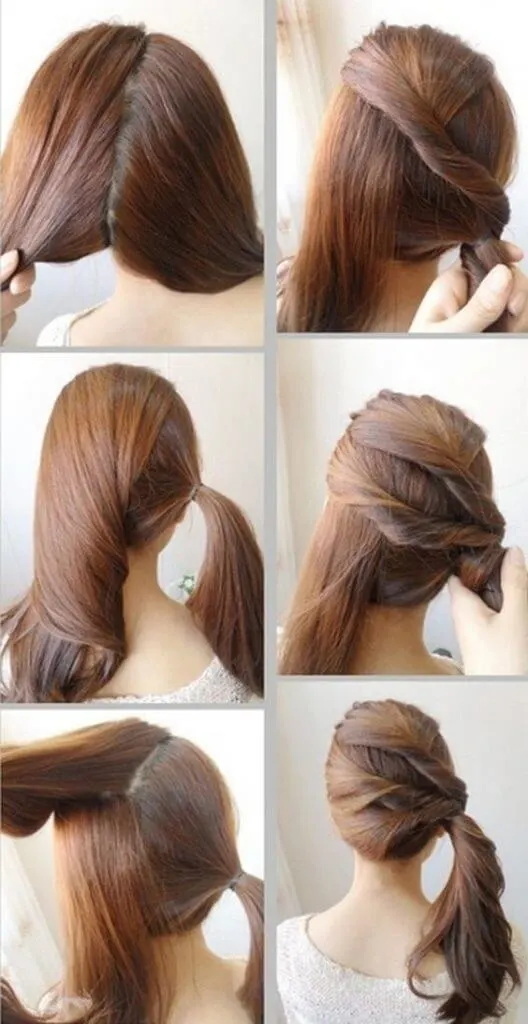 via pinterest.com
There is nothing more stylish for school than this one. And, it is as simple to achieve as you would like. Just comb the frontal hair all the way to the back and then take strands from one side of the head, roll it around and take it to the back before securing it to the other side. The voluminous ponytail would look amazing and so will the beautiful twists.
Combed Back With Flower Bun
via today
Girls always love flowers and they would love it even more if they could have a beautiful hairstyle they'd be able to wear to school. To achieve the look, comb it all back on top, make three sections at the back and just fold and knit them together into a beautiful flower bun. The hairstyle is complete and will create gorgeous vibes on any day.
Minnie Mouse Hairstyle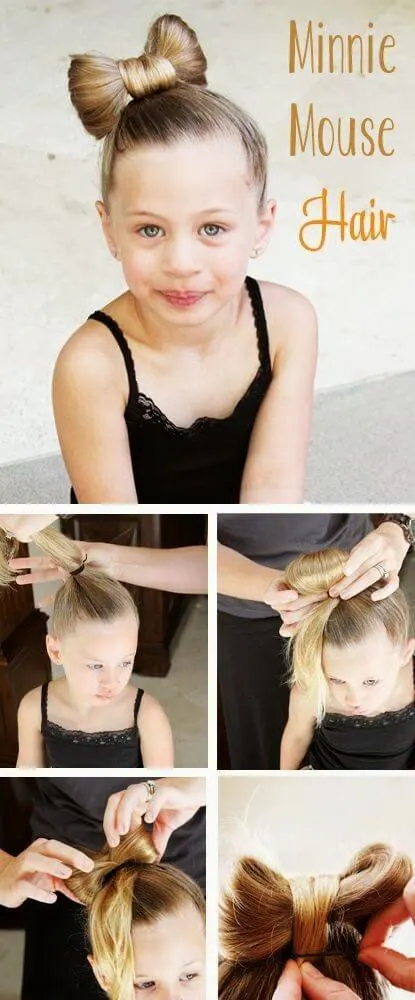 via pinterest.com
Ever wanted to style your girl's hair like the Minnie Mouse? She'd love it believe it or not. This beautiful hairstyle looks gorgeous with a simple combed back look and a voluminous hair bow right at the crown. It won't take more than 10 minutes to achieve this look if you know the art. So, just try to master it and achieve this look in everyday routine.
Layered/Bubble Ponytail
Image: Instagram @fave4girllynne)
You may think it's not the best hairstyle for school, but it can still work. The hairdo boasts of a slightly messy vibe which is maintained with the natural texture of hair. Just comb and pin it back on top while creating sort of a bubble in the ponytail with the help of rubber bands, one secured at the crown and the other halfway through.
So, if your girl has long and beautiful hair, you can try any of these gorgeous easy hairstyles for long hair for school and let her impress everyone.
Easy Hairstyles For Long Thick Hair To Wear At School
Styling long hair is one thing and styling long and thick hair is another! Here we have listed some easy hairstyles for long thick hair that every girl can wear to school without any issues whatsoever. Have a look and pick a few.
Tie Back
Source:.lifehack
One of the coolest look to achieve, the hairstyle is perfect for thick and voluminous hair. It just requires you to comb it back, twist the side bangs, and tie them together at the back. The natural wavy look of the open hair at the back will look just amazing.
Long Layers
By Lavish Salon and Spa
When you have got long and thick hair, why not leave it all open? The long layers really look amazing and if you can add a touch of color to it then it will look even better. The best thing is that you won't have to do any styling at all and your beautiful look will be ready within minutes.
Half Down Straight Hairstyle
Instagram / @JENNIEKAYBEAUTY
Another simple hairstyle to achieve, this one really looks amazing. The hairdo boasts of cool half down style and can be achieved in a few moments quite easily. The hair is kept long and open while the braided crown is secured low down the back of the head.
Royal-Approved Half Up Hairstyle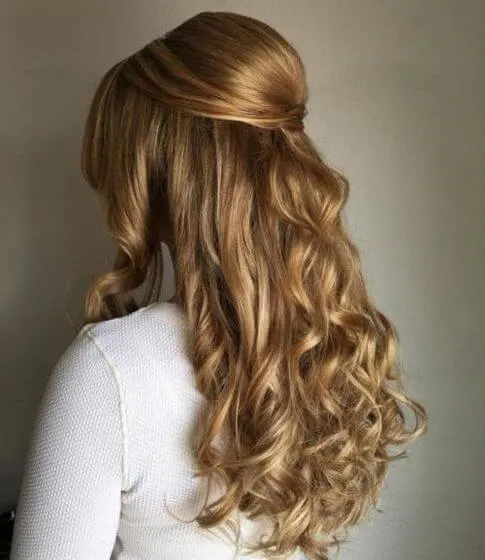 Another cool choice among easy hairstyles for long thick hair, this one boasts of wispy curls right down to the tips at the back. The hair on top is combed back while leaving the frontal bangs side-swept. Secure it at the back and it will look gorgeous.
All these hairdos can even make a perfect choice for girls at their workplace. They have a unique vibe to deliver and can be styled within minutes to keep your morning routine not-so-messy.
Easy Hairstyles For Thick Frizzy Hair To Give It An Organized Touch
Frizz is not always easy to handle and you have to put in some serious effort to manage it. However, here we have some hairstyles that make it all easy to handle.
Tucked Hair Bun With A Twist
A tucked hair bun makes an obvious choice for thick and frizzy hair. And when it comes to hairstyles for school, this cool hair bun style with a twist will make your life easier. It won't take much time to achieve and the natural frizz makes a statement too.
Voluminous Bouffant Half-Updo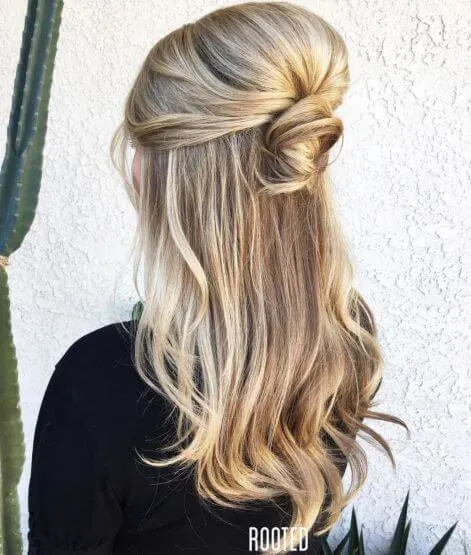 This beautiful bouffant updo is both stylish and easy to achieve. The hairstyle can make a perfect choice for parties and also for school. The wavy layers at the bottom characterize this beautiful hairdo. The twisted bun high at the back looks gorgeous in the overall scheme too.
Half Down Curly Tresses

This is a more classic choice among easy hairstyles for thick frizzy hair. You have to do a bit of styling for achieving this wonderful hairstyle. The natural wavy look is just perfect while the hair on top is kept nicely combed back.
Updo With Diagonal Braid And Bun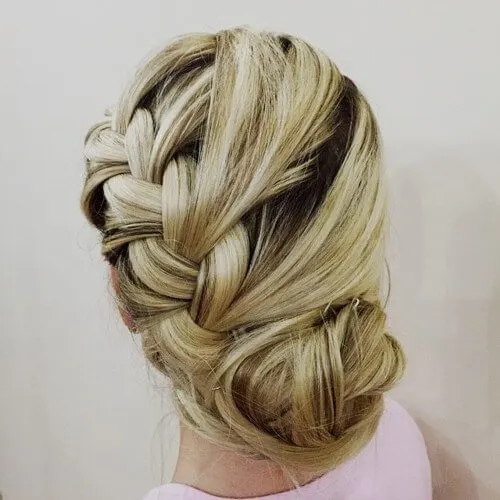 There aren't many hairstyles with something as simple and elegant as this beautiful hairstyle. The hair at the sides is braided into a nice and thick diagonal braid while it is all secured at the nape of the neck into a stylish hair bun. The hair on top is nicely combed back at an angle to mix with the braid on the other side.
So, which of these easy hairstyles for thick frizzy hair feel like your own style? Have a look and make your pick.
The easy hairstyles for long hair for school may not be as many as other casual and stylish looks out there. Still, however, you can find adequate hairstyle variations to wear to school every day and look different than before. Many of these looks can be appropriate even for special occasions and parties. It is just the matter of how you carry those hairstyles. Pick one for yourself from the list above and sport a wonderful style without breaching the school code.