Are you a parent looking to give your stylish 11-year-old girl a dazzling makeover? Try box braids hairstyles for 11-year-old girls that will leave your little one feeling confident, trendy, and ready to conquer the world!
Your 11-year-old girl is ready to grow into an energetic teen, and they must be willing to experiment with their looks all the time. Of course, their hairstyle should also reflect the energy they are brimming with.
To create that effect, we have curated a few stylish variations of box braids for kids that you must check out.
Benefits of Box Braids for 11-Year-Old Girls
Protection for Natural Hair
Box braids act as a protective style that shields the delicate strands of an 11-year-old girl's natural hair. They reduce exposure to harsh environmental elements, such as sun, wind, and pollution, minimizing the risk of damage and breakage.
This protective barrier also helps retain moisture and prevents the hair from becoming dry or brittle, promoting healthy growth.
Versatility in Styling Options
One of the greatest advantages of box braids is the freedom to experiment with various styles. From ponytails to buns, updos to half-up styles, the possibilities are endless.
11-year-old girls can explore their creativity, expressing their unique personalities through different braiding patterns, hair accessories, and colors. This versatility allows them to switch up their look effortlessly.
How To Create A Box Braid on 11 Year Old Girl's Hair?
Creating a box braid hairstyle for an 11-year-old girl can be a fun and creative process. Here's a step-by-step guide to help you achieve this hairstyle:
Wash the girl's hair using a gentle shampoo and conditioner. Once it's clean, gently detangle the hair using a wide-tooth comb or a detangling brush.

Using a tail comb, create a clean and straight part down the middle of the head, dividing the hair into two equal sections. Then, further divide each section into smaller sections, depending on how many braids you want to create.

Apply a leave-in conditioner or a moisturizing cream to each section of the hair to keep it hydrated and protected during the braiding process. This will help prevent breakage and keep the scalp moisturized.

Take one small section of hair at the front of the head and divide it into three equal parts. Cross the right strand over the middle strand, then cross the left strand over the new middle strand. This creates the first "box" of the braid. Repeat this process, adding more hair to each strand as you go along, until you reach the desired length for each braid.

Once you've reached the desired length, secure the end of the braid with a small hair elastic or a hair-friendly rubber band. Make sure it's not too tight to avoid discomfort.

Move on to the next section of hair and repeat the braiding process until all the sections are braided. Be consistent with the size of the sections to achieve a uniform look.

To keep the box braids neat and prevent frizz, you can use a small amount of styling gel or edge control along the hairline and the roots of the braids. This will help smooth any flyaways and keep the braids in place.

Optional: Decorate the braids (if desired): You can add colorful beads, hair cuffs, or ribbons to the ends of the braids for a fun and personalized touch. Be creative and let the girl choose her preferred accessories.
Stylish Box Braids For 11-Year-Old Girls
1. Box Braids with Ribbon Accents
Ribbon Accents are an adorable way to add some flair to box braids for 11 year old girls. You can weave ribbons of her favorite color through the braids, making them more personalized and fun.
2. Box Braids with Twisted Ends
Box braids with twisted ends are a unique take on traditional box braids. Instead of the usual straight ends, this style twists the ends of the braids for an added touch of sophistication. It's a creative twist that's sure to be a hit with 11 year old girls.
3. Rainbow Beads Box Braids
When looking for box braids for 11 year old girls, you want something fun and vibrant. Rainbow beads box braids fit that bill perfectly. This unique style weaves in colorful beads at different intervals along the braids, providing an explosion of color.
4. Crowning Glory Box Braids
Searching for a princess-worthy style? Crowning Glory Box Braids are an excellent choice for box braids for 11 year old girls. It shapes braids into a crown atop her head, perfect for making her feel like a young queen.
5. Zig-Zag Part Box Braids
Traditional doesn't have to be your only option when considering box braids for 11 year old girls. Zig-zag part box braids offer a fresh and unique approach, with zig-zag partings adding a creative edge to her look.
6. Space Buns Box Braids
Why settle for one style when you can have two? Space buns box braids is an innovative hairstyle choice when looking at box braids for 11 year old girls. Braids form into two buns at the top of the head for a fun and playful appearance.
7. Sparkling Rings Box Braids
Box braids for 11 year old girls can be fashionable and glamorous too! By incorporating shiny hair rings along the braids, you can add a hint of glittering chic to her hairstyle.
8. Side Ponytail Box Braids
Put a twist on the usual ponytail with this unique style of box braids for 11 year old girls. All the braids are gathered into a stylish side ponytail, providing a refreshing change from the usual center or back ponytails.
9. Layered Box Braids
For an added visual appeal when considering box braids for 11 year old girls, layered box braids make a wonderful choice. They create an interesting layered effect by braiding the hair at varying lengths.
10. Bob Box Braids
Box braids for 11 year old girls need not always be long. Bob box braids are a trendy alternative, with braids reaching to her chin or shoulder, offering a tidy look different from the common long braids. This style is especially manageable and cute for young girls.
There are many beautiful hairstyle variations that you can create for your little kids with stylish box braids. Let's explore a few here.
11. Classic Cornrows
A typical cornrows hairstyle is full of energy and can impart it into your kid any day. Just start braiding at the front and achieve a classic cornrows style.
12. Long Dreadlocks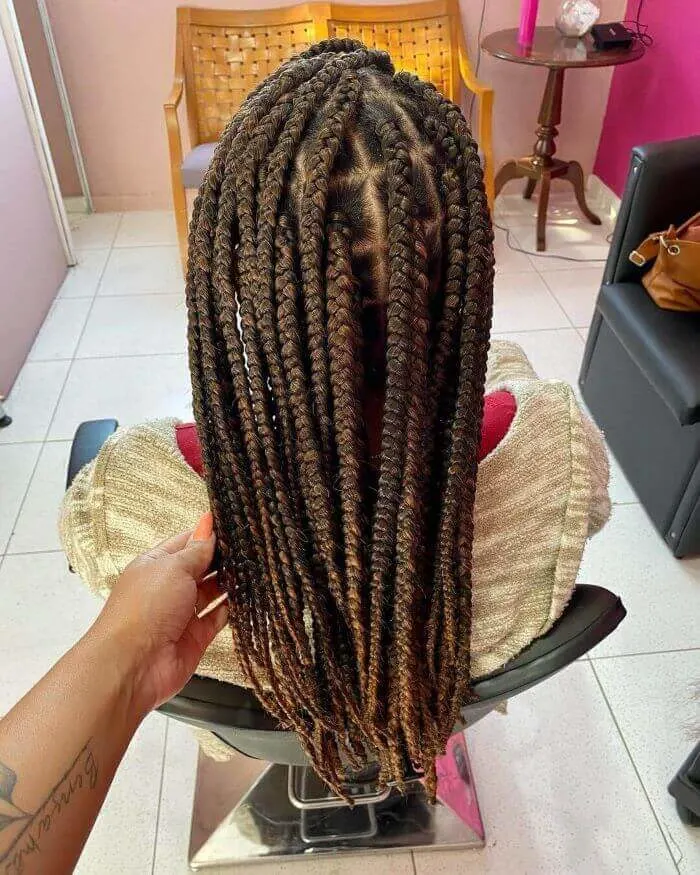 Dreadlocks are a go-to hairstyle for black girls and boys in their teens. Give them a real energy boost by styling their hair into beautiful long dreadlocks.
13. Long Box Braids With Color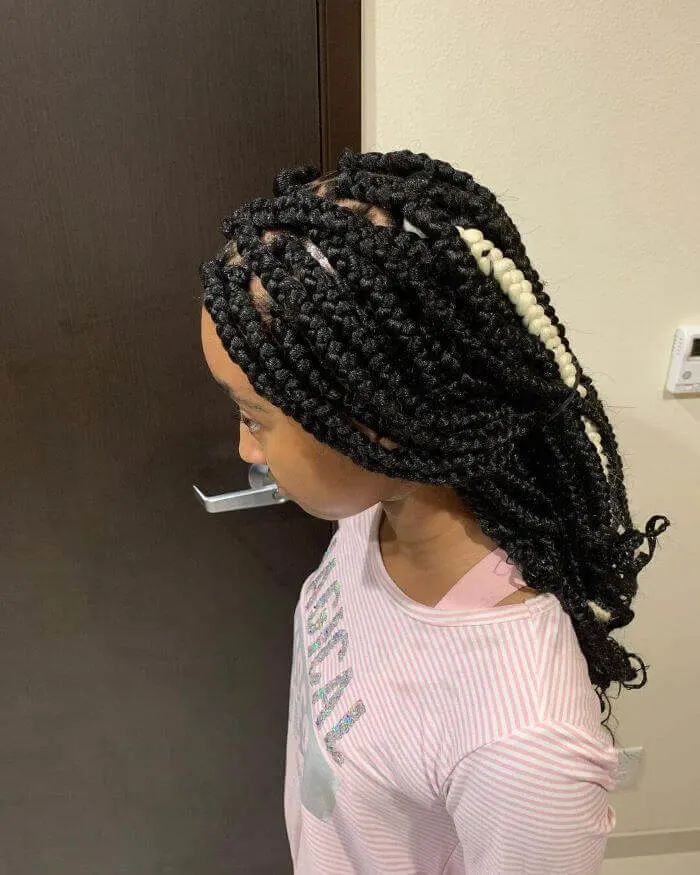 A typical box braided hairstyle, this one is given a unique stylish touch by dyeing a long braided layer in white. The hairstyle gives a perfectly organized look to your teen on a busy day.
14. Long Box Braids With Colorful Accessories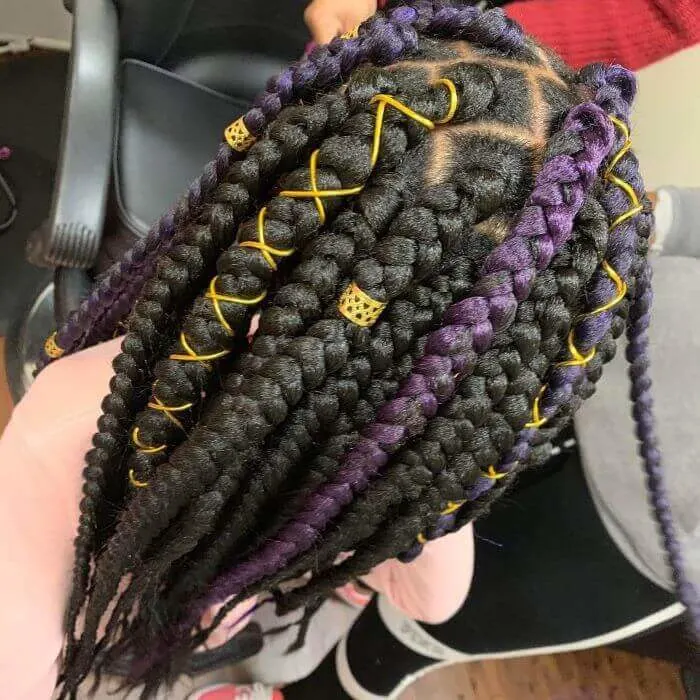 This unique braided hairstyle features thick long braids at the top, and they continue to get thinner as you move towards the tips. Dye a couple of layers in dark purple and accessorize the rest with shining golden accessories to achieve an energetic new look.
15. Long Voluminous Box Braids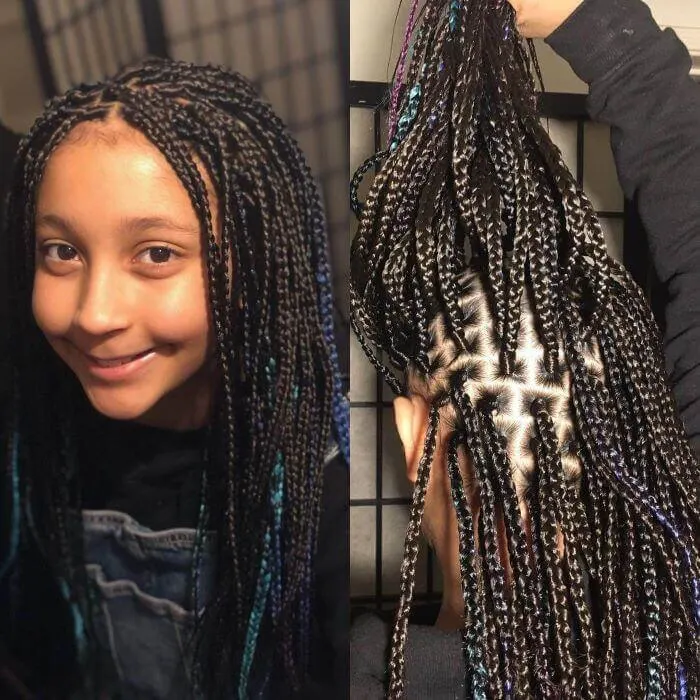 This beautiful hairstyle features box braids created closely all over the head and looks stunning. You can accessorize it with colorful accessories to give it a bit of oomph.
16. Box Braids With Combed Over Bangs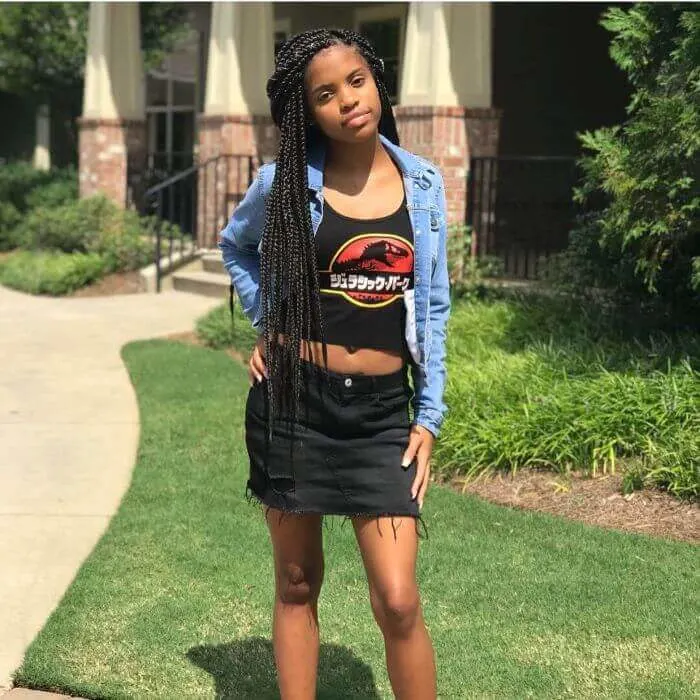 This stylish look is achieved by creating box braids all over her long kinky hair. The hairstyle is given a unique touch of style by combing the frontal bangs over to a side.
17. Long Braids With Golden Accessories
If your little girl has the luxury of long, dense kinky hair at such an early age, you can give it a touch of style by braiding it all over and adding some golden accessories to the mix.
18. Brown Box Braids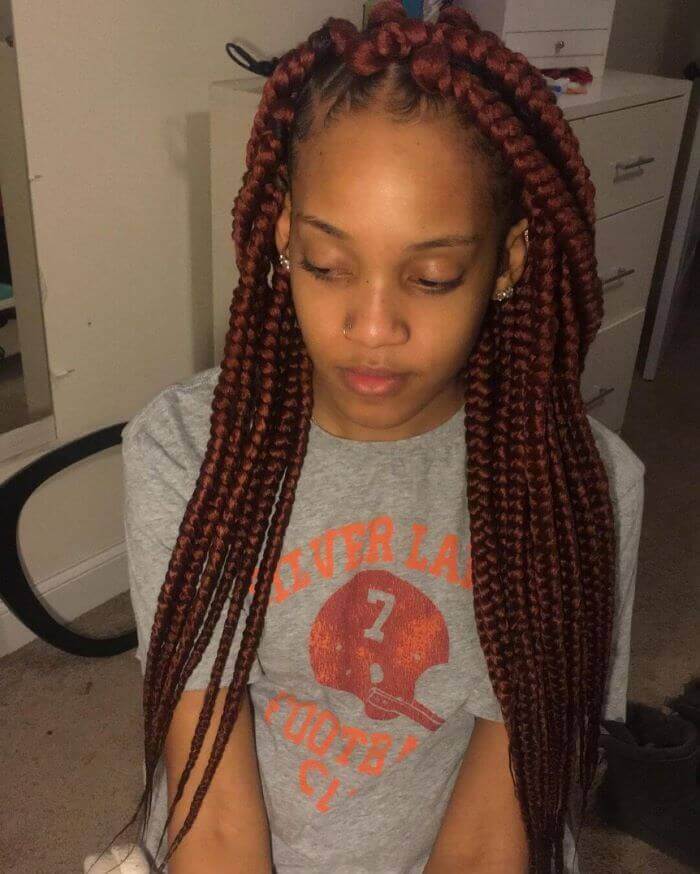 A typical box braided hairstyle with a brown dye all over the braids, this one presents some stylish vibes.
19. Long Brown Braids With White Ribbon
A cool box braided hairstyle with a brown tinge, this hairdo is accessorized with a thin ribbon crossing over every braided layer from top to the bottom.
20. Center-Parted Box Braids
A typical long braided hairstyle with a center part, this beautiful hairdo can be a perfect everyday look in the teenage.
21. Box Braided Bob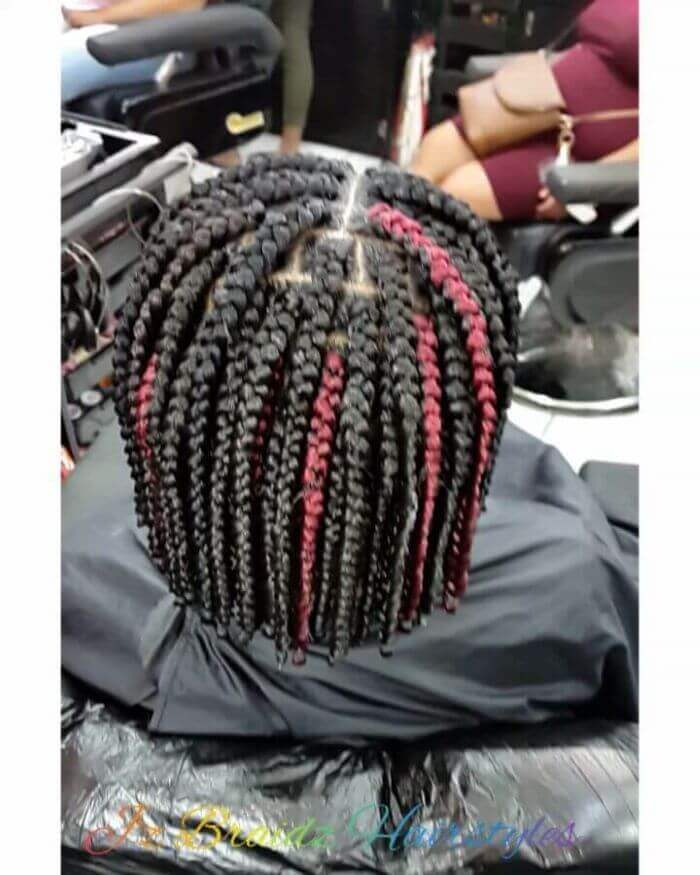 A stylish shoulder-length bob looks stunning on black girls with kinky hair. You can experiment with the look by adding some color and creating a center part.
22. Box Braids With Multiple Braided Buns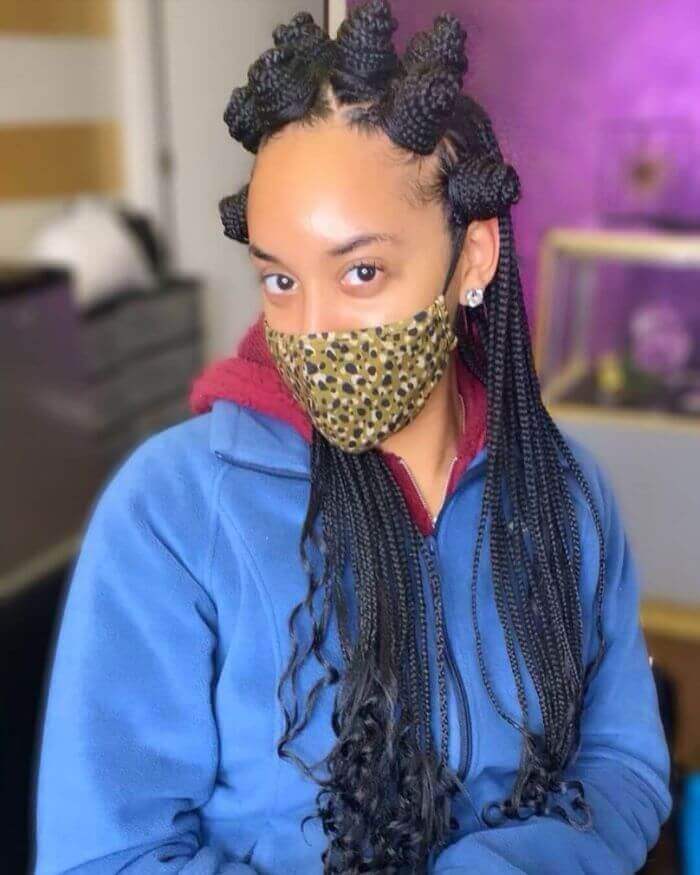 This unique hairstyle boasts typical box braids and is given a unique touch of style by creating multiple braided buns all over the head. It's a stylish party look for 11-year-olds.
23. Box Braids With Twisted Layers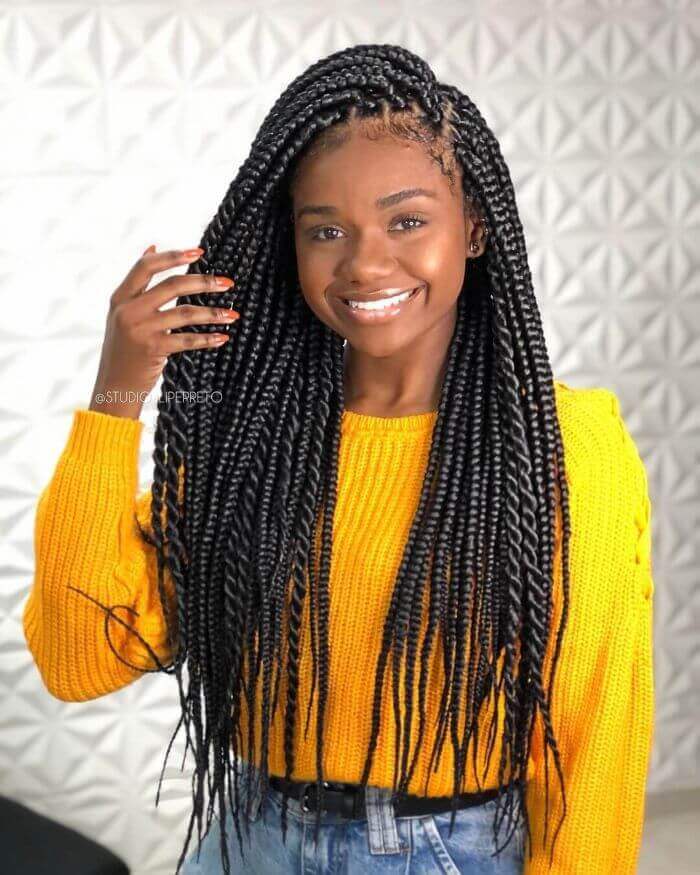 These long stylish braids can be a perfect choice on any day. The hairstyle is created by braiding it all over and securing it with a side part. A couple of twisted layers in the middle give it a stylish vibe.
You are no short of options when it comes to the box braids for 11 year olds. Pick one of the stylish looks from the list above and let her flaunt a new hairstyle as she gets ready to enter her teens.