Your little girl has grown into a toddler, and you need to pay extra attention to her tresses. You need to comb her hair, clip it and manage it regularly. Besides, you must style it differently to reflect her growing age and the inherent beauty she is acquiring. If you are already looking for some of the best toddler haircuts girl, here we have a complete style guide for you to consider.
9 Best Toddler Haircuts Girl
We have handpicked these 9 best hairstyles for girls that will give your little one a charming appearance for sure. Try them out this year and give her a vibrant style. Let's have a look at what options you have got.
Pixie Haircut
It really is an ideal choice for the toddler girls, especially, when you have to deal with straight hair dropping down too much. You have to cut her hair short at sides and back while leaving it a little longer up top. That makes the hairstyle easy manage and comb through. Here's how to get a perfect Pixie haircut.
Shampoo her hair and pat it with towel leaving them damp only.
Use a comb to straighten it up making sure you can cut them easily.
Cut the hair at the back first with little cuts from bottom. As you reach the nape of her neck, get a little slower with your cuts. Continue cutting until you have that fringe on her neck.
The hair at her nape should be styled accordingly. Leave some strands towards the middle section of the nape to do some styling. Take the same approach to cut her hair on the sides as well. Leave some hair fringes over her ears allowing them to cover one-third of it. The locks on the sides should be cut as per your preference.
As soon as you are done with sides and the back, comb her frontal hair towards a side and create a simple side part. Trim her fringes at the front and give them a uniform look.
Long Tapering
Image: Shutterstock
This one could be a perfect choice for toddler girls having wavy or straight hair. It is quite easy to do and you can achieve the look at home as well without any need of having too many professional tools. Here is how to achieve this haircut.
Wash her strands and dry it all to damp state. If you're not interested in washing it off, use water spray as an alternate. Once you do that, comb it all nicely.
Cut her hair vertically in slow motion starting from outer edge and going towards inside of straightened hair. Do same steps on other side as well. You will have to create V-shape with her tresses towards the lower end.
Continuously comb her hair and straighten it up after every cut. This helps in figuring out if you are actually getting that V-shape or not.
Forehead Bangs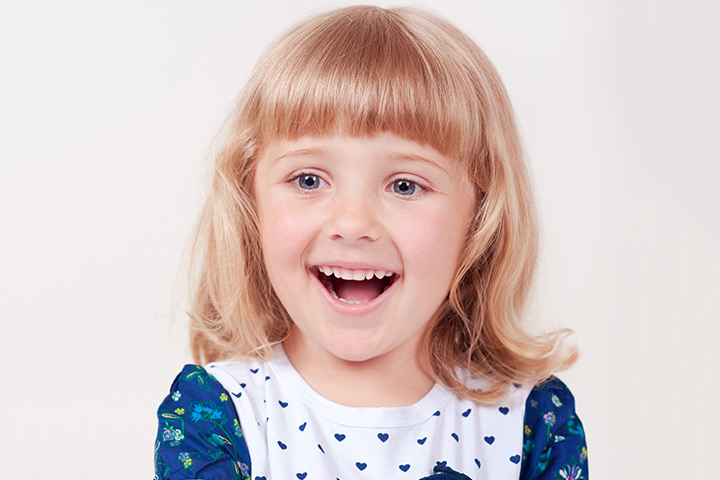 This particular haircut works perfectly for girls with naturally thin hair. The forehead bangs can be worn with both long hair and bob haircut. Here you have the steps to follow in order to achieve this wonderful hairstyle.
Shampoo her hair and thoroughly dry it using a towel.
Run it forward around a couple of inches from her hairline. Comb it across entire length of her forehead making sure it is covered completely.
Tie all remaining hair for making sure that you do not end up accidentally cutting it.
Figure out what length you would want the bangs to be. For sharp bangs, keep it to somewhere around one half of an inch above her eyebrows. For blunt bangs, allow it to touch her eyebrows.
Trim it horizontally straight while keeping it to the length you have decided on. Once you are done, comb it forward and her forehead bangs would be ready to flaunt.
Parted Side Bangs
You can keep the bangs straight or part them to a side for a stylish look. These bangs are achieved just like the forehead bangs above, but they look their best when she has thin and straight hair which you'd preferably part from a side. Here you have the steps to follow for achieving this look.
Cut the bangs with same steps as you would with forehead bangs. While cutting the combed hair on the forehead, don't go in horizontal straight line. Rather trim it at a slanted angle.
The bangs would go the longest on opposite side of parting you'll create. So, when you are parting it left to right, you'll achieve longest length of the bangs towards the right. Make sure it decreases gradually in size as the hair run towards the left.
Classic Bob Haircut
source: Shutterstock
It is probably the most popular of choices among toddler girls. The haircut is just perfect for girls with straight hair as well as narrow face. Here you have the steps to achieve this look.
Create three sections of hair keeping one of them at back while the other two on sides.
Use a comb to create three partitions. Start cutting her hair at the back and keep cutting it until you reach top of her nape. A trimmer can also be used here for achieving the same effect. When you have shortened her hair, you are done with the section at the back.
Now cut the section on the side by going bottom up. Leave frontal hair longer and make sure that you don't cut it. This will give a couple of neat fringes which run along either side of her face.
Asymmetrical Bob Haircut
Just like the classic bob haircut, this one is achieved along the same lines. Just keep in mind that the fringes on a side are longer compared to what you have on the other. Follow the steps below to achieve this hairstyle.
Start with same steps that you would do with bob haircut. In the last step, you need to comb out her hair which runs straight on each side.
One of these fringes should then be cut shorter compared to the other one. Also, make sure that you cut it diagonally instead of horizontally.
Typically, you have to trim the fringe that is closest to side part. So, that means if you're parting her hair on left side, the fringe towards the left should be trimmed shorter.
Medium Length Haircut
source : iStock
This one is a perfect choice for girls with curly hair. The hairstyle will make sure that her hair is kept to a manageable length. Here you have the steps to follow in order to achieve this look to perfection.
Create a part on the side or in the center, and comb her hair backwards.
Keep it to medium length so that it can touch her shoulders or simply keep it half an inch apart from her shoulders. Choose length as per your own preference.
Trim lower end up to your desired length. Make sure that the length is kept the same at both the sides while the hair is cut in straight line.
Cropped Hair
When you crop your girl's hair, it becomes easy to wash and dry. You can easily comb it afterwards as well. The look may not be too appealing to some, but it's quite a practical style because you can easily manage it. Follow below mentioned steps to achieve the style.
Cut her hair short just like bob haircut. Run a comb through her hair and cut very small hair sections which run through bristles.
As you get close to hair around her ears, just cut it all down and don't leave anything on her ears. Make sure that the hair on the sides is tapered and kept short.
Cut it down as long as you have achieved the length you desired. Brush it up properly after you have cut the hair and see if you have a uniform haircut.
Boy-Cut Hairstyle
Just as you would guess by its name, the haircut is all about getting your toddler girl a boyish look. It is one of the best toddler haircuts available for girls today which is shorter than a bob haircut and the cropped hair. Here we have listed the steps you need to follow for achieving this style for your little girl.
Shampoo her hair and dry it off. Create a side part and comb her hair. Start cutting at nape of her neck taking small hair sections through bristles and simply trimming them down.
Do the same stuff on sides as well. When you have to cut it at the front, comb her hair down all over the forehead and slowly cut them through. Make sure that you keep it to equal length.
Cut her hair around ears as well and keep them shorter. Trim the locks on the sides for shortening them and carving them out neatly. This is the step that would differentiate this haircut from the cropped hair in which you can leave it long and tapered on the sides.
So, these are the toddler haircuts girl that you could try out this year. In fact, these hairstyles have been around for quite some time and you must have seen them before as well. With all the steps listed above, you can easily do most of these haircuts at home and give your girl a charming appearance. Pick one today and try it out!