Fade haircuts have been a popular choice among kids and they love the army style or any other casual faded look. However, if the agenda is to try something completely different, the temple fade would make a perfect choice. The hairstyle can be created with all types of hair and can give perspective to any length of hair too. There are so many cool variations available and trying them out would help us understand when each of those styles can best be sported.
Temple Fade Variations For Kids 2023
There are so many different variations of the look available and you can easily come up with something that suits your little kids better than the others. Here are a few ideas that you can consider.
Temple Fade For Curly Hair
This is one of the coolest looks to sport for those with extensively curly hair. The hair length is grown out all over while the temples are faded a little to add a touch of style to the look.
High-Top Temple Fade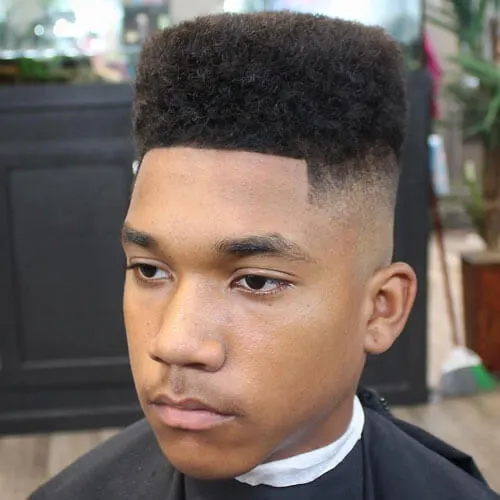 This is a beautiful look to consider for the Afro boys. The hairstyle boasts of some volume on top which is kept flat while there is a high fade that trims the temples too.
Buzz With Hard Part And Fade
Buzz cut is a popular hairstyle among boys of all ages and this cool new variation gives it a whole new perspective. The hairstyle boasts of short hair length with a hard part on a side. The temple fade completes the look to perfection.
Kinky Hair With Temp Fade
This is another cool implementation of the temple fade haircut for the Afro boys. The hairstyle features kinky little locks and the temples are faded to give it a stylish look.
Pompadour With Fade
Pompadour is, probably, the most stylish and organized look available today for boys of all ages. The hairstyle can be tweaked a little to add a faded look to it on the sides and it will look even more stylish.
Angular Fringe With Fade
If you want to keep it messy and stylish, the hair on top can be left longer while the sides can be given a nice faded look. There is no need to comb the hair on top. Just run your fingers through and you are ready to go.
Short And Straight Hair With Temp Fade
This is another cool look to consider. The hairstyle boasts of very short hair length on top and all over. The temples are faded to complete a perfect overall look.
Comb Over With Temp Fade
A comb over style never goes out of fashion. This stunning look is created with volume combed over on top and low temp fade on the sides.
High Flat Top With Mid Temp Fade
Another flat top haircut for afro hair, this one keeps the temp fade a bit low on the sides. Overall, it's pretty neat and well-organized.
So, get yourself or your little ones a simple, no-fuss hairstyle by going for a temple fade variation from the options listed above. The hairstyle would look gorgeous on any day and can do both formal and casual settings.