One thing that every little girl adores while growing up through her childhood is to have long, beautiful hair that allows her to achieve all sorts of unique hairstyles. If you know your girl closely, you might also know that she wants the same as well.
And, if she already has the luxury of long beautiful hair – whether straight and fine or curly and kinky – you should be looking for the best shoulder length hairstyles for little girls that will make your princess look cute, stylish and elegant while giving her looks a unique touch of class.
So, let's not just keep you waiting and get straight into the most awesome hairstyles out there that you can try with your little girl haircuts this year.
Curly Shoulder Length Hairstyle With Pigtails
Source: Little_Miss_Mila_Rose
A perfect mix of open and tied hair, this hairstyle boasts of natural shoulder length curls that really look amazing and cute on little girls.
A unique element of style is added to the look with the help of beautiful pigtail buns created around the crown area. Add a couple of bow clip accessories and the hairstyle will look perfectly amazing overall.
Fine Shoulder Length Hairstyle With Bangs And Wavy Tips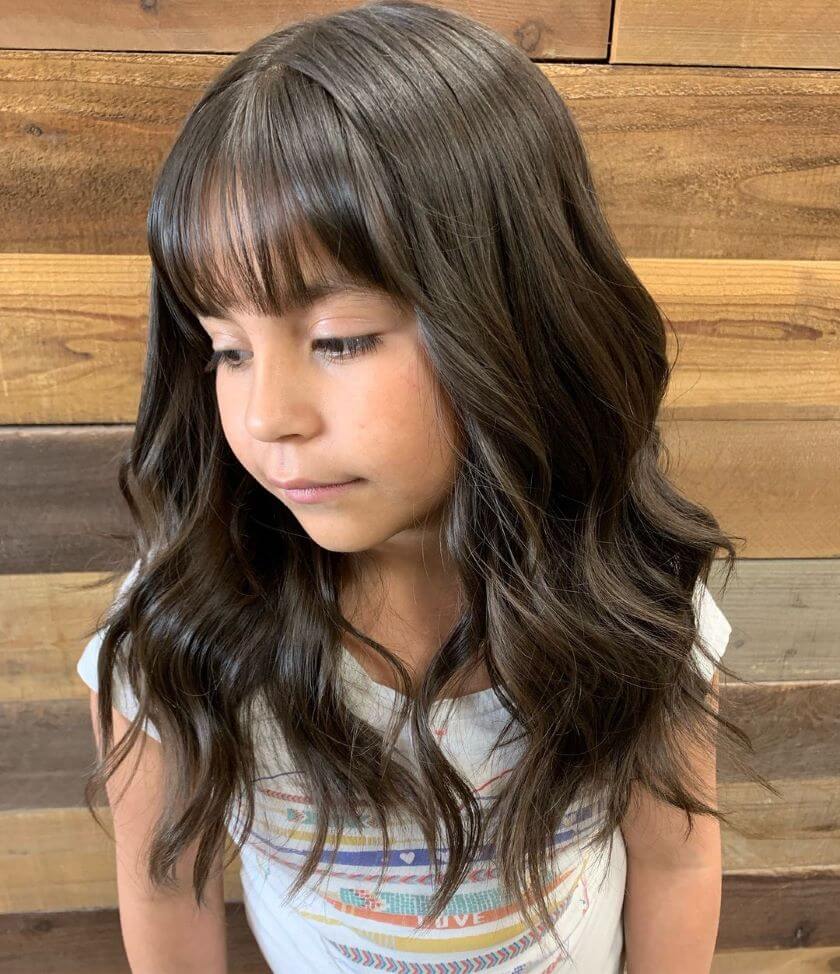 Source: Claudiashairstory
This cool look can be achieved by girls with straight and fine, naturally wavy hair. It is more of a simple and classic style that doesn't need too much of effort to achieve the look.
The hairstyle boasts of a center part on top and the frontal bangs are made to fall over the forehead to create a perfect style. The rest of the hair is left open and the natural wavy tips make a unique vibe.
Long Shoulder Length Curled Hairstyle
Source: Hairbyhenchy
The great thing about long shoulder length hair is that you can style it in almost any way as you like. If your girl has straight and fine long hair, you can turn it into curly locks with the help of a curling iron and if you she has got naturally curly hair then you can use hair straighteners to make it all straight and silky.
It all depends on the hairstyle you choose. For this one, for example, you have to curl your girl's naturally straight hair into beautiful wisps that fall over her shoulders elegantly.
The top is nicely combed back and there is a beautiful bow accessory used around the crown area to secure the look to perfection.
Combed Back Hairstyle With Messy Long Ponytail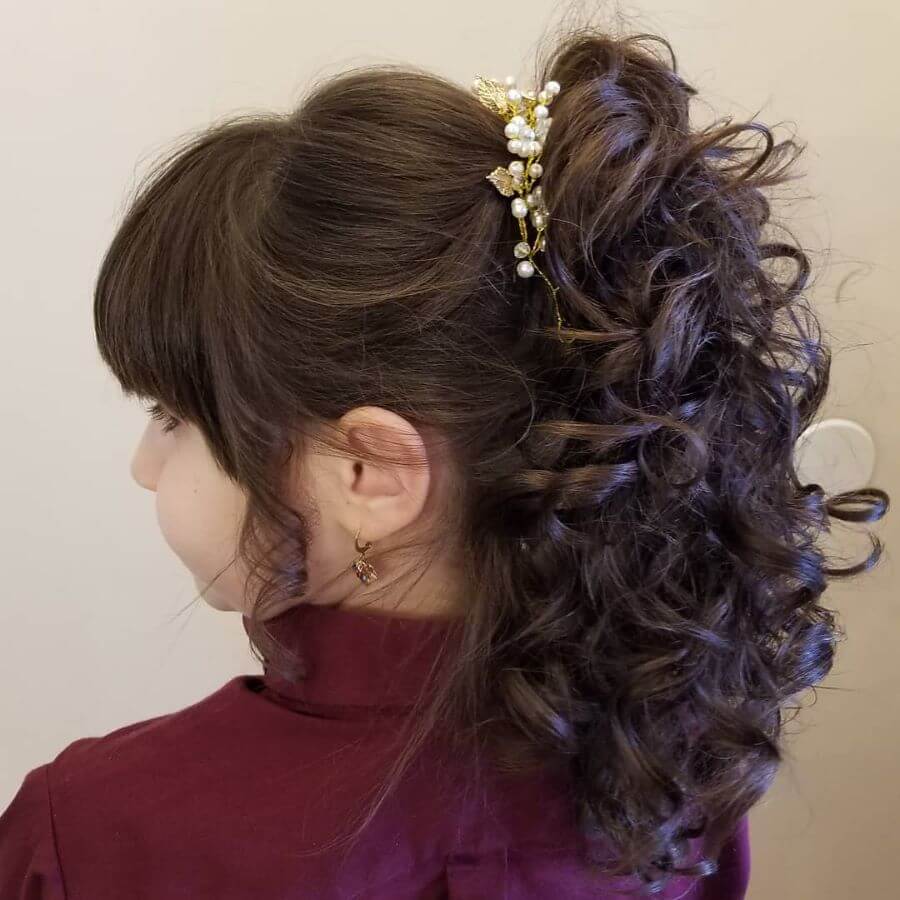 Source: Hairbyhenchy
Long beautiful hairstyles have their own unique vibe and this one is no different. The hairstyle looks classic and elegant with its beautiful bangs falling over the forehead and a combed back look halfway through on top.
When it comes to the shoulder length, it's the long curly and messy ponytail at the back which creates all the waves about this beautiful hairdo.
The Ponytail is secured with the help of a nice accessory just around the crown area. Your girl can wear this beautiful hairdo to parties and all sorts of special events and will look equally special as well.
Long And Naturally Wavy Center Parted Hairstyle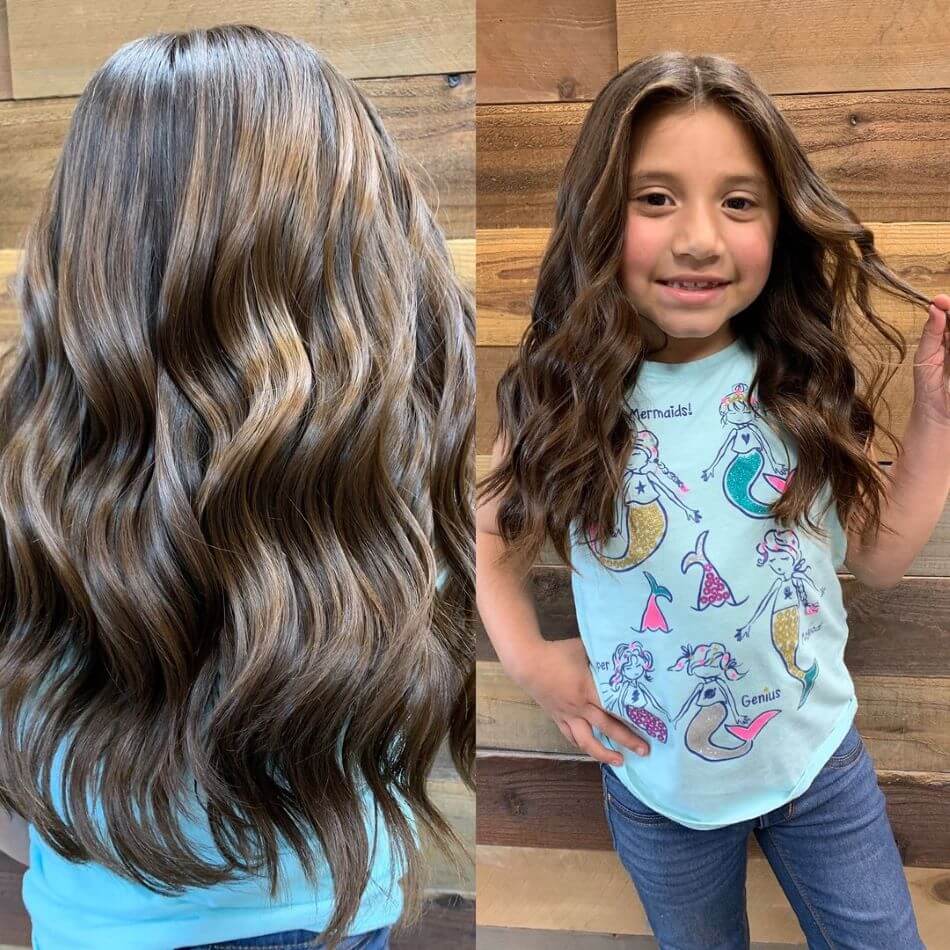 Source: Claudiashairstory
Another cool and stylish look that your girl would love to flaunt, this beautiful hairstyle is all about keeping naturally wavy hair to shoulder length.
Parted in the center on top, the hairstyle requires you to only care about maintaining those natural waves going down to the bottom. It's that simple to achieve this beautiful look.
Center Parted Kinky Hairstyle
Source: Amaiya_And_Mehkai
Another unique take at the shoulder length hairstyles, this really is one of the best black girl hairstyles out there.
The hairdo requires the naturally kinky hair of your little girl to be grown long enough to reach the shoulder length and the volume it creates while doing so will surely make a unique style statement. Part it in the center on top and let the kinky locks impress everyone around.
Combed Back Long And Wavy Hairstyle
Source: Chloeysdooftheday
This combed back look makes a unique statement with its frontal fringe taken back at an angle and secured into place with the help of a hair accessory matching with the dress color. The length is kept to the shoulders and can even go beyond that if you want to.
However, the most stylish part of the hairdo is those natural waves going through the voluminous hair all the way to the tips. Believe it or not, your little girl would look gorgeous in it for sure.
Shoulder Length Hairstyle With Bow Bun
Source: Hairbraiderss
If your girl has long and voluminous hair, the best thing you can do is to comb it all back and then leave it open for her to flaunt everywhere.
The hairstyle really looks amazing and you can always add a touch of style to it with the help of a bow bun created at the back. You can't really ask for anything better.
Long Hairstyle With Side Braided Bun
Source: Hairbraiderss
Long hairstyles present a perfect opportunity to braid your girl's hair and this one here is just a perfect example of that. You can create this beautiful hairstyle with your little girl's hair by combing it to a side and braiding it into a bun on the other side.
The long hair at the back will make a unique statement and will complement the style on top to perfection. You don't really need to do much about maintaining this beautiful hairstyle.
Shoulder Length Hairstyle With Layered Waves
Source: Hairbyjunie
One of the coolest shoulder length hairstyles on the list, this beautiful hairdo boasts of a beautiful side swept look on top while the hair get layered and wavy moving towards the other side.
It is edgy at the tips and seems to be a bit blown away to create a more than perfect vibe overall. A little twist midway through really makes for something special and gives this wonderful hairstyle a unique touch of its own. The hairstyle looks its best on the blonde hair types.
Long Hairstyle With Side Pigtail Braided
Shoulder Length Hairstyle With Clips And Ponytail
Long And NaturallyBraided Wavy Side Bun Hairstyle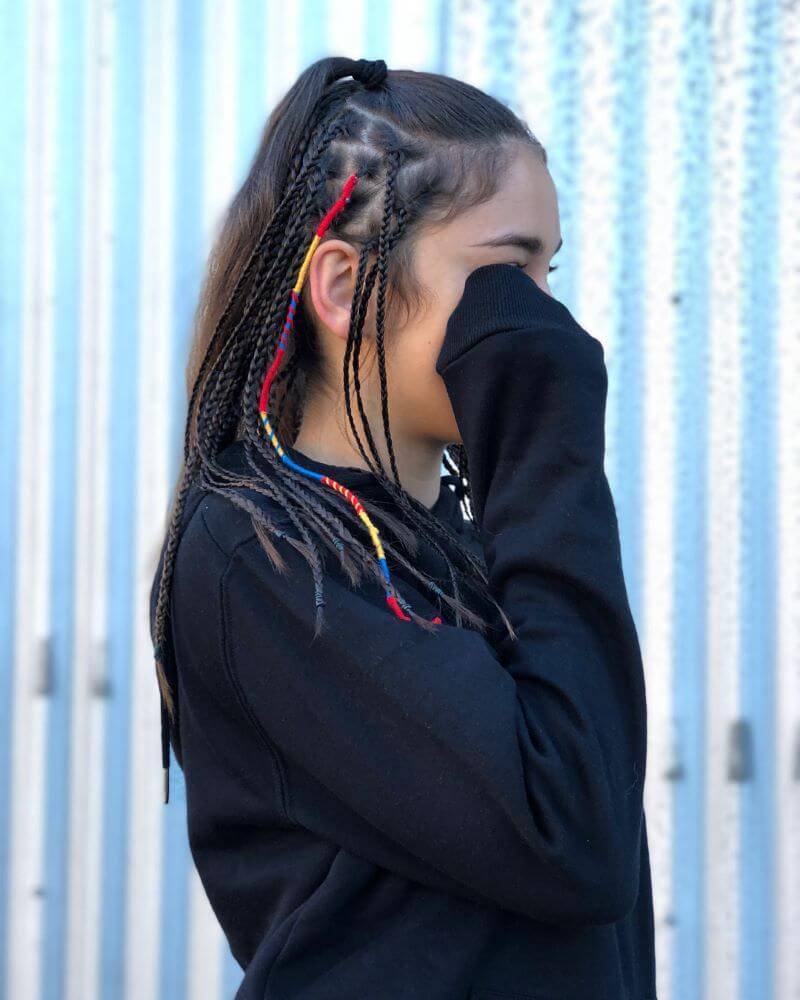 So, which of these shoulder length hairstyles are you going to try out this year for your little girl?
We'd suggest that you better consider the type of hair she has, her face shape, and what suits her better than the others when it comes to long hairstyles. You'll definitely be spot on with your decision should you take this route.