Being in the military means you have to bring in a lot of self-discipline while being bold at the same time. Both these traits are pretty evident in any military haircut and there are a lot of them that you'd want to try with your kids to give them the same feel.
Most of the army haircuts are on the shorter side which makes them really easy to style and maintain. The length is usually kept to a couple of inches only.
Even with the basic look of various high & tight haircuts, they still make a popular choice for kids and parents often adopt these hairstyles to keep all the fuss at bay when styling their kids' hair or taking care of them.
In order to make sure that you get the desired military cut for your kid and are fully satisfied with it, you'd be better off taking a photo along which you can show to the barber. Advise them that you want exactly the same look so that there is no guessing around.
The Best Military Haircut Options For Kids
If you have always loved army haircuts, you'd know that you can style them in a lot of different ways.
Even there are a lot of variations of the haircut itself and you need to make sure that you get the one that's most appropriate for your little one. Here we have listed a few options that you may want to consider for your little one.
Burr Cut
When looking for something that goes almost bald but is not cut to his skin, a burr cut really makes an ideal choice for you.
Mostly, the hair that is left behind is around 1/8th of an inch in length and it can be achieved quite easily with the help of an appropriate clipper.
To achieve the best results, make sure that you take your kid to a barber for ensuring a well-structured final look.
Crew Cut
It's a very simple hairstyle which is considered quite conservative in comparison to various other army haircuts we have today.
The haircut is all about trimming your kids' hair to a couple of inches, at least, while ensuring that the frontal section has some extra length which you can brush while styling his hair.
The strands on the sides and the back must be kept way too short and should even be tapered, only if you prefer to do so, getting some shape to the final haircut.
Regulation Cut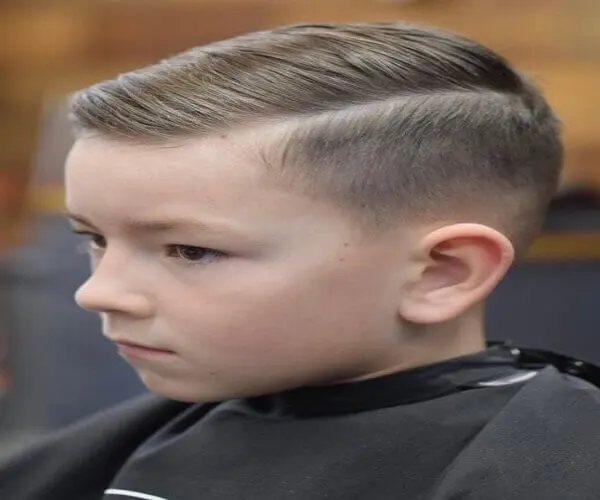 It is another cool military haircut that makes a perfect choice for kids who are always inspired by the army. It is probably the oldest choice among the military hairstyles and you can do it with a little longer hair as well.
The hairstyle needs minimal trimming with the hair on top given a side-parted look revealing a very sharp line starting at the front and going all the way to the back. For achieving a perfectly neat look, some tapering should be done to the hair on sides and the back.
Most of the time, the barbers use scissors for trimming the hair rather than a clipper in the bid to ensure that proper tapering of the sides and the back is done to achieve a perfect finished look.
Flat Top Haircut
It is an ideal choice for kids with straight hair as the end product reveals flat hair on the top. Most of the time, the top hair is trimmed down to the minimum length. It is then trimmed to ensure that it doesn't get out of shape when brushed up.
For highlighting that flat top, hair on the sides and the back is cut very short to achieve a faded look but that's on your individual preference. Obviously, at the end of the day, it's you who has to decide what type of look you would want to achieve.
Fade Haircut
Source: labarberia.n.20
Even though a fade haircut can be styled in so many different versions, the one associated specifically to the military is styled in the standard form all the time.
In this haircut, the hair that is left behind on top won't ever exceed a couple of inches while the sides are given the shortest possible length.
This particular fade haircut is appropriate for a variety of hair types and the final product always looks cool if some professional stylist has done it.
Furthermore, the choice of fade is also crucial here as you can choose between a regular fade, a low fade, and a high fade haircut. Just make sure that you go with something that makes everything look in proportion.
Induction Haircut
If you want to give your kid a feel of a new recruit, this is probably the best hairstyle that you would want to go with. This is the haircut that is given to the new recruits on the very first day of their boot camp.
It's titled appropriately because the haircut is given out almost in an assembly-line to all the cadets inducted into boot camp's first day.
This particular haircut is also quite simple to achieve as well. It is another military haircut that is almost a bald haircut. An electric clipper is used with no guard at all for creating the closest haircut possible.
In the end, stubble-like texture is achieved and they actually do this for quickly removing the hair so that they do not have to do all those time-consuming steps required for a clean shave. To some, it may not be that attractive, but it still does its job quite efficiently.
Longer Buzz Cut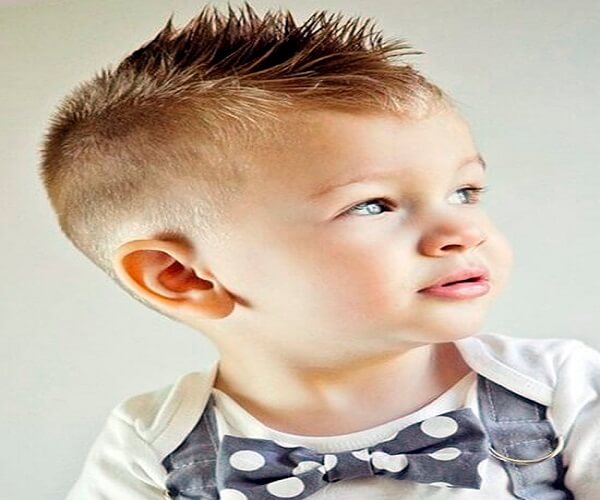 You have the buzz cut listed above but what about if you do not want to go that short with the hair length? A slightly longer buzz cut is definitely going to do the trick.
This one is done with hair clipper leaving the strands a bit longer compared to burr cut. When it comes to the full buzzcut styles, they're often referred to as the birch and they are done with higher clipper setting.
But if you can go for something between 3 and 5, it won't be the birch cut anymore. So, you have to decide what type of Buzzcut are you going to give to your little one.
High & Tight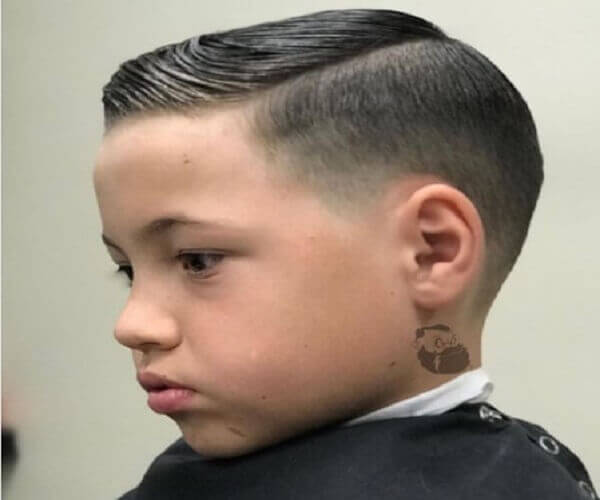 This high & tight haircut is pretty recognizable when it comes to military-specific haircuts and it is quite common as well. It uses low clipper guard on the sides while leaving the hair on top to almost 1 inch in length.
There isn't any gradual tampering done on the sides as well as the top. It's quite an uncommon haircut that always looks perfect on the right person. But it may also be a risky choice if you just don't get a perfect haircut at the end of the day.
Dramatic Undercut
You may have heard a lot about the undercut hairstyles but this one is really something dramatic. For this one, the hair on top is a bit too long for it to be classified as a true military haircut.
Nonetheless, it presents a very similar style. The hair on the sides is trimmed closely while the top is tidy enough as well. Obviously, you won't need anything better than that.
Messy Ivy League
Yes, it may not be like most of the typical army hairstyles, but this clean and short Ivy League hairstyle does follow all the military haircuts standards and makes a perfect choice for your kid on any day.
It is a classic look to achieve and it does have its own special vibes to deliver.
Short On Top And Tapered Sides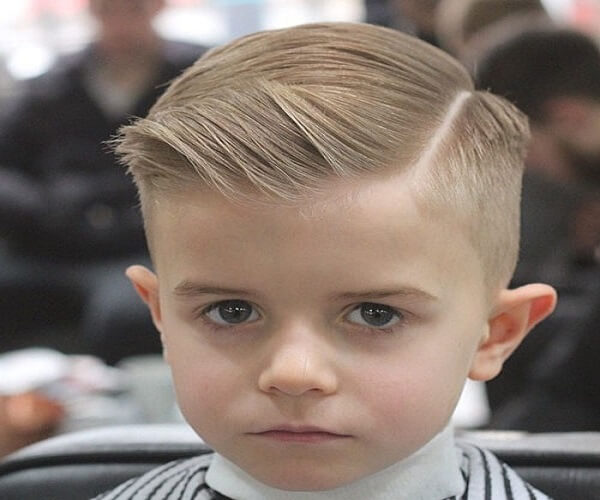 This one goes shorter on the top and gets even shorter moving towards the sides. Overall, it's a simple haircut that uses taper and creates a strong and fierce look all over.
Side Swept Haircut With A Shaved Undercut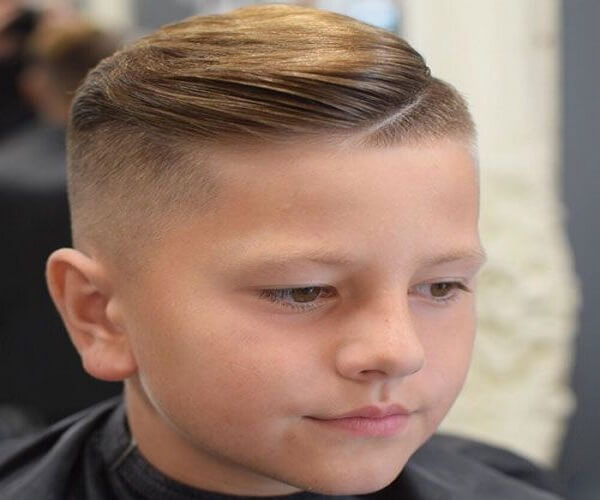 As far as the ultra-short undercuts are concerned, you can always go for a side-swept look on top. Just combine it with the shaved undercut on the sides and it will add a bit of extra class to your kids' haircut.
Buzz Cut With Skin Fade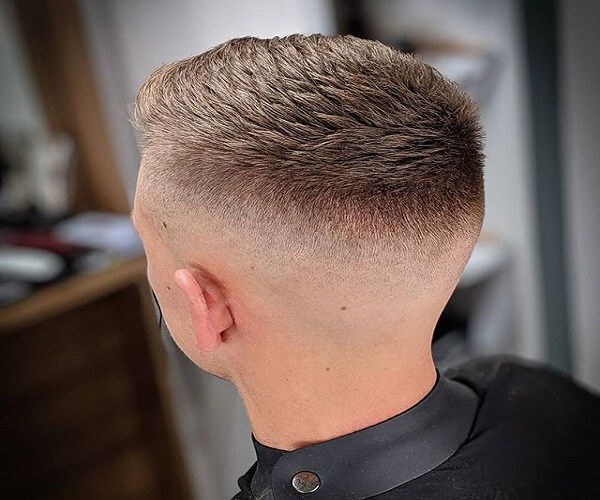 Source: focus.barbershop
Yet another variation of the typical buzz cut, you can treat the sides deliberately in whatever way you like. For this one, just go for a typical buzz cut hairstyle and then have the sides faded to the skin for a perfect look.
High & Tight With Length On Top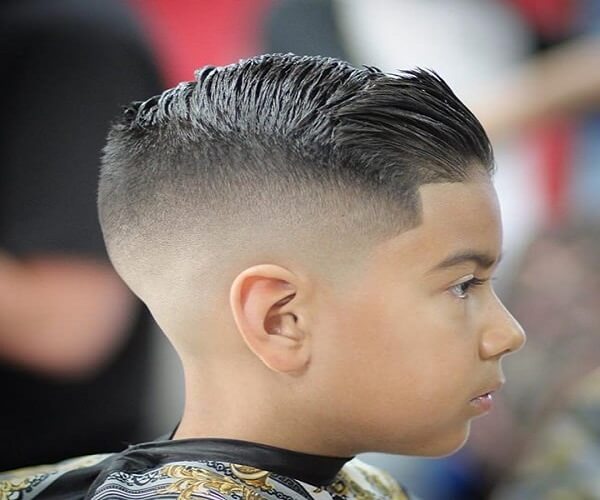 This high & tight look is differentiated from the one given above in a sense that it features some length on top. Perfect for kids with straight hair, the natural texture added to the hair on top does the job rather nicely.
High Taper Fade
Source: kingchrisdabarber619
If you want to give him a fade haircut but want something different from a typical fade, try this variation and go for some taper on the sides.
Start high on the sides and make sure that you have a perfect taper. A bit of length on top would do the trick rather nicely.
Choosing the right military haircut for your kid is always going to be the key. You have all the different variations of the hairstyle available and it is just the matter of making the right pick.
And, if you are able to do that, you'll definitely make your little one enjoy the summertime more than ever with confidence brimming through his style and everything he does. So, get to work now and make a perfect pick for your kiddo!