A perfect party look is never a problem to achieve for you if you have nice medium length hair to flaunt. There are many cool medium length hairstyles that are introduced every year and ladies go on with their amazing variations throughout the year and try to impress everyone around at the parties they attend. From a choppy bob to a long bob with layers, there can be a lot of different variations that could be tried with medium length hair. However, you need to be cautious that what you have chosen must work for you too.
Unique And Cool Medium Length Hairstyles This Year
Simply getting your hair trimmed to medium length is not always going to give you a cool party look. You have to choose your hairstyles very carefully if you want to ensure that you have a look that everyone praises. Here we have listed some of the best medium haircuts for girls that would let you make a statement on any party or event you have to attend this year.
Choppy Colored Layers
Source:insta
This is quite a unique look with hair running down to the shoulders. The hairstyle needs a perfect layered haircut first before the final look could be styled on any day. Once you have that great haircut you need, it's time that you let the choppy layers loose and dye them from the mid-right to the tips in a nice copper tone. The choppy look all over is just amazing and makes a perfect vibe for any event you'd like to attend.
Pink & Copper Tones
Source: insta
Besides having a perfect haircut, you have to make sure that you add a right mix of colors to your medium length, beautiful locks. For this wonderful look, you have to cut the fringe shorter and make it go backward while leaving the tips layered and beautifully put together. Adding tones of pink and copper to the hairdo all over would definitely add a perfect spark to this otherwise bland look.
Layered Blonde Medium Length Hairstyle
Source:insta
A layered look is always a great choice for parties and special events. And, this beautiful hairstyle is a true depiction of just that. The hairdo boasts of a nice and clean layered hairstyle that goes down all the way to the shoulders. The hair is all dyed in a metallic blonde shade and it just looks gorgeous. Whether you are after Christmas hairstyles for girls or you're just looking forward to some cool and beautiful looks to flaunt at a party, this one will give you exactly what you're looking for.
Medium Brown Hairstyle With Highlights
Source: insta
As mentioned earlier, medium length hair can take any shape and form and this one here exactly shows you that. The hairstyle boasts of a typical medium-length style with layers curving out towards the bottom. And, if you are not interested in giving your hair an all-out touch of color, this one makes a perfect choice for you with some brown highlights that complement the style to perfection. It is definitely going to let you grab a few eyes as you go to a party.
Layered And Wavy Shoulder-Length Hairstyle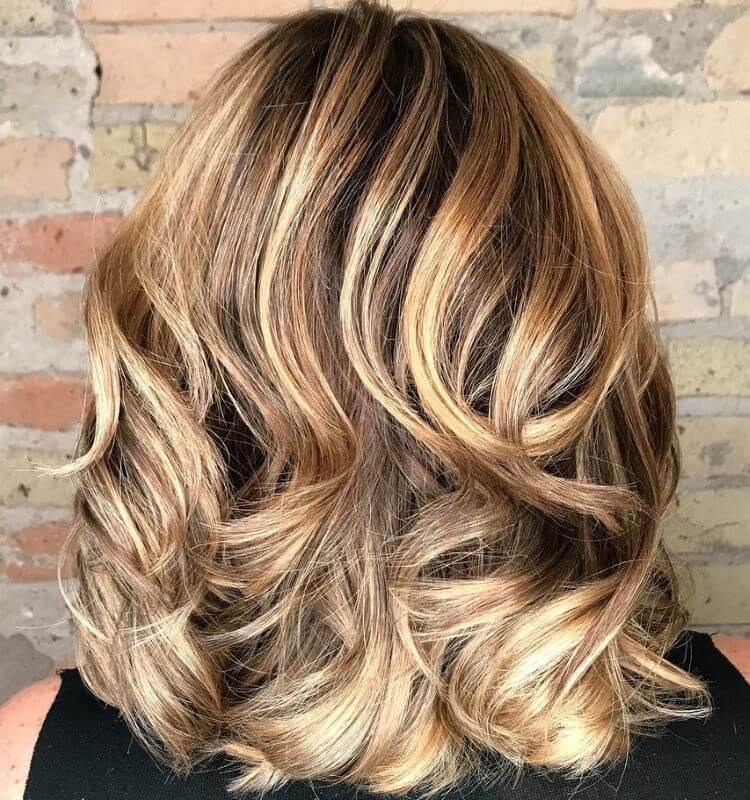 Source: insta
A layered and wavy look is all the rage this year and it's sported best with medium length hairstyles. You need to have some volume on top for achieving this beautiful hairstyle to perfection. With dense volume, give it a thick and wavy look which is just tailor-made for the special events and parties. No matter what function it is, you can style this beautiful hairdo and grab all eyes. Just make sure that you keep it thick and wavy as you create those layered and if you can add some metallic tones, that's even better.
Shoulder Length Edgy Hairstyle
Source: insta
When you want to keep it to medium length, the shoulder-length hairstyles will be your best bet. This beautiful look gives you just that. The hairstyle is achieved in layers and a choppy look is given to it towards the bottom. You can experiment with this look with a tinge of color too but it will still look awesome if you keep it simple just as depicted in the picture above.
Blonde Choppy Haircut For Medium Hair
Source: insta
Blonde hair is unique and stylish in itself and doesn't often need too much of styling for the parties. But if that's not enough for you, you can always try and experiment with your look for special occasions. Consider this beautiful hairstyle with a choppy look where the tips are kept uneven in length and it helps you make a gorgeous vibe. The volume on top is kept nice and wavy to making the hairdo look amazing. Just sweep it to a side on top and you'll be ready for the party you have to attend.
Gorgeous Glam Curls

Source: insta
Even when you don't have naturally curly hair, achieving some glam curls for the upcoming events would help you create a cool and gorgeous vibe. This beautiful hairdo we have here is just that. It really looks amazing as those curls give it some added volume and you are going to love everything about the look. A tinge of color and you'll be party-ready with this beautiful hairstyle. Everyone will praise your new hairstyle implementation and you should be ready to receive the compliments.
Thick Featured Blonde Bob
Source: Instagram 
When it comes to medium length hairstyles, some bob haircut variations easily make the cut and give you a unique and cool look to flaunt. This beautiful thick feathered blonde bob is one of those cool variations as well. The hairstyle boasts of beautiful edgy tips curving outwards and that's, probably, the best thing about this hairdo. It lends this hairstyle a perfectly stylish look. The hair on top and the back is kept perfectly layered and stylish too. The frontal hair can either be combed all the way back or you can do a little variation to sweep it to a side. Either way, it will look cool.
Bob Haircut With Symmetrical Swoopy Layers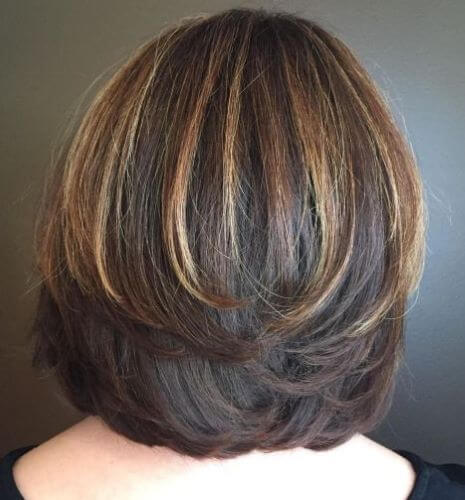 source: Instagram 
When it comes to bob hairstyles, there aren't many options you could find with perfect symmetry in the look. However, here we have a perfect deviation from that trend. This hairstyle is nice and symmetric and it curves at the bottom rather nicely to make it look perfectly organized and beautiful. The swoopy layers that fall from top to all the sides of the head also make a cool and unique style. When you add some color to it, that's even better. But make sure that you don't go for too much of it because that will ruin the entire look. A tinge of color on those swoopy layers is all you need for a perfect implementation of this beautiful and unique bob haircut.
Medium Length Haircut With Short And Choppy Layers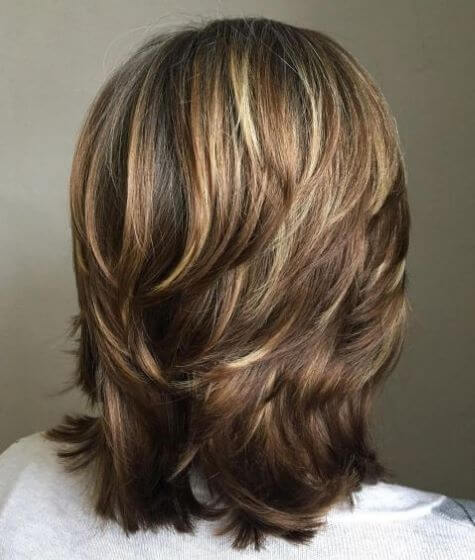 source: Instagram
Another shoulder-length haircut, this one is all about those beautiful choppy layers and it really looks gorgeous and stunning. Just make sure that you have even length at the back and it is stylishly layered to achieve a perfect party effect. And those color shots all over make it look even better. You can keep it side-swept on top and it won't need much maintenance either.
Bouncy Layers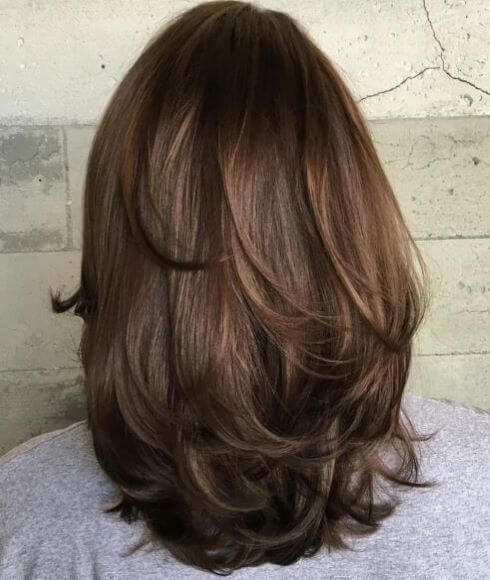 The bounce and volume define this beautiful hairstyle and it doesn't have many other styling elements that you have to take care of. The rounded shape at the bottom looks amazing while the wavy layers define this beautiful hairstyle to perfection. A little disheveled look towards the bottom is the hallmark of this beautiful hairdo. It is intentionally kept slightly untidy towards the bottom and still makes a perfect party style.
Medium Length Hairstyle With Layered Ends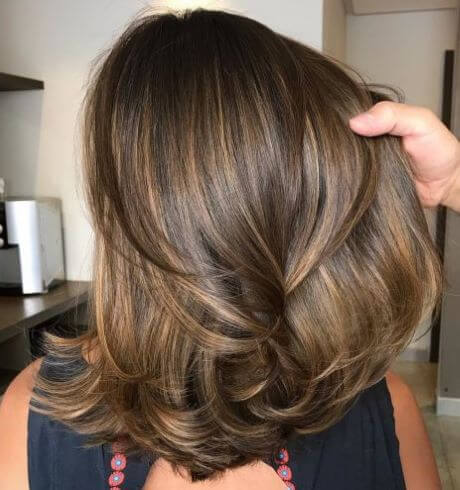 source: Instagram
This is another cool implementation of the medium length hairstyles that boasts of beautiful layers all around. The layers are made in such a way that it looks more beautiful and voluminous than ever. And obviously, a little color here and there will take this beautiful hairstyle up a notch. The hair on top is parted in the center and it looks gorgeous overall. Make sure that you keep it to shoulder length and not longer than that for a proper implementation of the look. It can complement your party outfit rather nicely.
These are some of the best medium length hairstyles you could consider for the next party you're going to attend. They all fit into a variety of styling needs and you just need to pick one that's best for you. You can sport these amazing looks on a range of different parties from Christmas to New Year to some office party and so on. Just make sure that you go with the right one for your specific needs.