There are some hairstyles that never get old and can be styled in lots of innovative ways to give them a whole new and gorgeous vibe. Low fade haircut can be easily named on top of such hairstyles as it's been around for ages and never seems to go away anytime soon. Yet, there are some amazing low fade variations that you could try out whenever you hit the barber shop to get a refreshed look. You could opt for low fade taper, low fade short hair, and many other low fade haircut styles that allow you to play with your hair just the way you like.
Low Fade Haircut Variations That Are Trending This Year
Your imagination is the limit when it comes to low fade haircut styles but you can always come up with some tending hairstyle options that look cool on you any day. Let's run you through some new hairstyles hand-picked by our experts just for you.
Messy Curls On Top With Low Fade
This cool hairstyle is not for you if you want an organized look. Rather, the hairstyle makes a perfect choice for the carefree types who just don't want to spend time on styling it every morning. The hair on top looks cool with natural curls and makes a nice curly fringe at the forehead. The hair on the sides is faded low and a perfect look is achieved.
Short Wavy Top with Low Fade
Another way to keep the styling hassle away is to have short hair on top. The natural wavy texture gives it a stylish look while the low fade on the sides completes it to perfection.
Side Swept With Low Fade
Nothing can be more formal than this beautiful hairstyle that's simply swept to a side on top and gets that wonderful touch courtesy of a low fade on the sides. Whether you want to wear it to school or a party, the hairdo won't let you down.
Caesar With Low Fade
This really is a cool variation of the Caesar haircut that is short on top and swept to a side casually at the front. The low fade short hair always makes a great combo and here we have a perfect example of that.
Buzz Cut Faded Low On The Sides
There is no better look than this one for those who wish to keep it simple and stylish. It's a typical buzz cut on the top while the sides go low and fading. No styling hassle at all!
Short Combed Back With Design And Fade
This gorgeous look makes for the guys who want to flaunt a unique hairstyle. A pattern of color going around the head really gives it a unique look. The low fade at the bottom completes the look like nothing else while the short casually combed back hair on top is even better.
Kinky Hair Faded Low
The hairstyles for black boys can be as unique as this one. The kinky hair on top and shaved sides turning into low fade towards the back makes a perfect choice.
Casual Messy Top With Low Fade
Want to get out of the styling hassle? This low fade haircut is tailor made for you.
Textured Combed Back With Side Fade
A fade on the sides with combed back length on top, this textured look is just perfect for any day.
Formal Side Swept With Texture And Fade
This formal look makes a perfect choice every day of the week. A neat look with texture on top and low fade on the sides makes an ideal choice.
Side Swept High-Top Haircut With Fade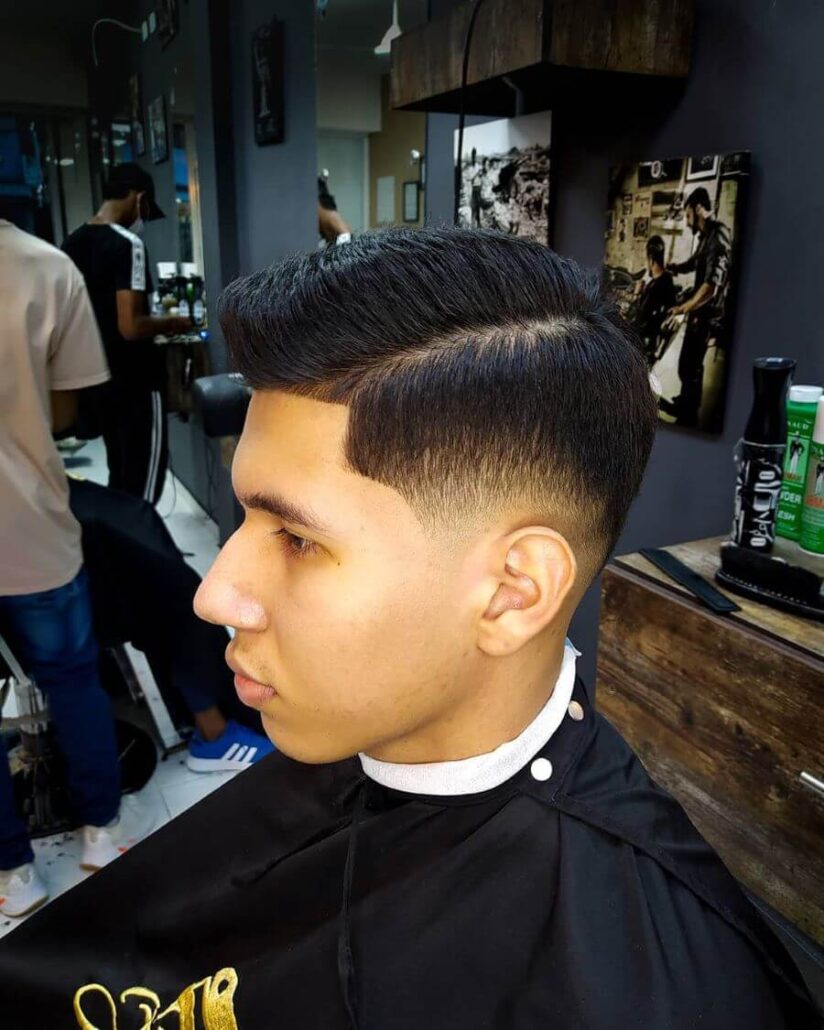 This one is a cool side swept look but the hair on top is set a little high. Fade complements nicely on the sides.
Forward Swept Layers With Color And Fade
This one boasts of some length on top which is all swept forward in layers. The color makes it grab a few eyes while the fade looks gorgeous on the sides.
Forward Swept With Low Fade And Design
If you are after cool kids haircuts, this one with a unique surgical design on the sides elevates the faded look even further. The hair on top is nicely swept forward.
Spiky Top With Faded Sides
This one boasts of some length on top that is parted on a side and is then given a cool spiky touch. With faded sides, it really makes a cool choice among the low fade haircut styles.
Curly Combed Back With Faded Sides And Design
This unique look is about medium length hair on top that's all combed back. The fade and design on the sides elevates the look even further.
Pumpkin Hairstyle With Fade
If you are looking for  fade haircut look, this pumpkin hairstyle is tailor made for you.
Gray Mohawk With Fade And Bangs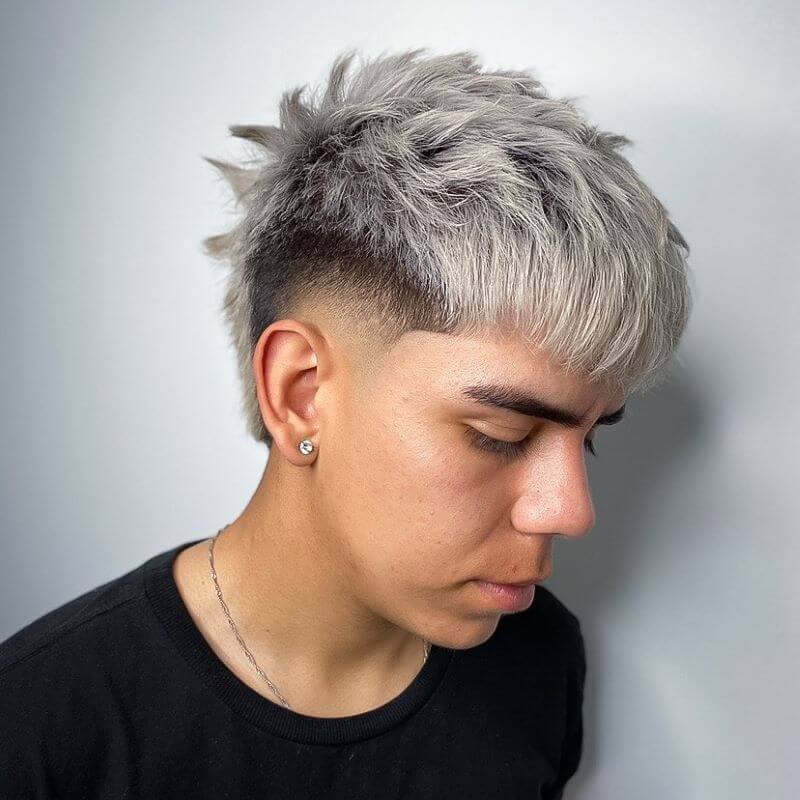 This unique take at a Mohawk hairstyle is about adding some color on top and styling it with bangs and faded sides.
Fade Hairstyle With Colored Stripe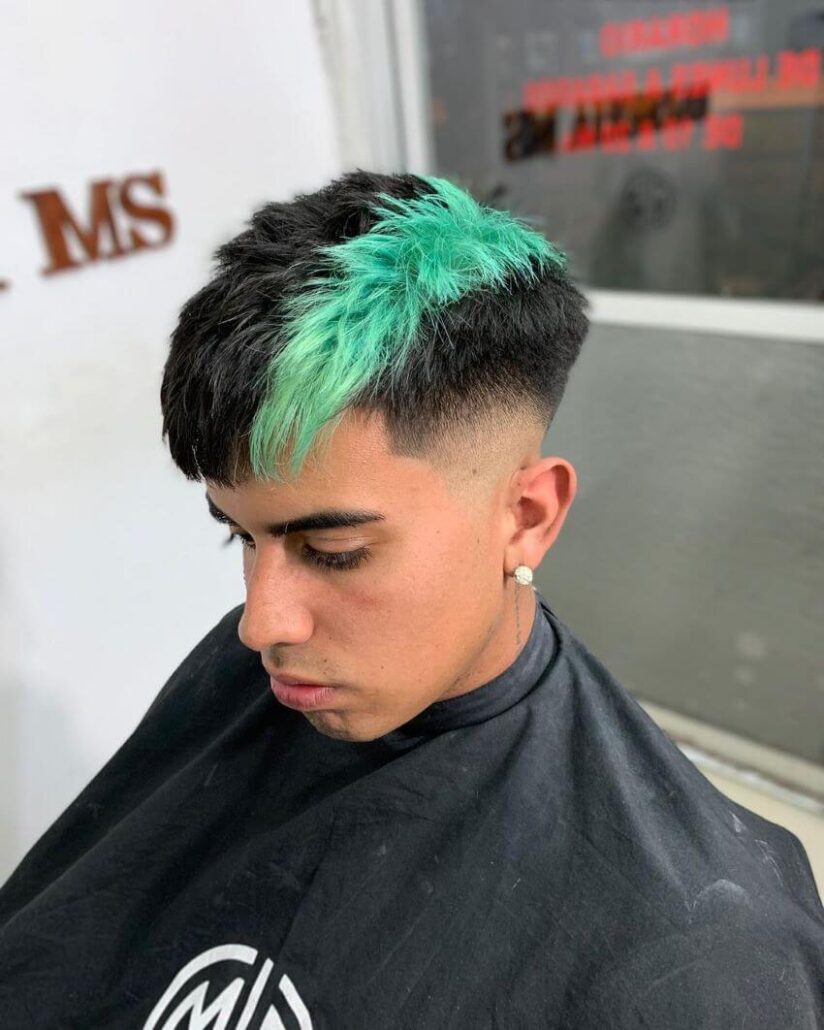 This gorgeous hairstyle boasts of a bright color stripe on top that adds a unique touch to it.
Combed Back Spikes With Fade
This really is one of the best hairstyles on the list that is both spiky and combed back.
Low Fade With Braided Top And Tails
Ever wondered how you could style braids with fade? This is a perfect implementation.
Messy Top With Low Faded Sides
If you love your curls, make sure you let that love show in your hairstyle. This gorgeous look requires you to grow it all out on top and create a contrast with the fade on the sides.
So, if you are planning to get an evergreen low fade haircut, you can try any of the above variations of the look to achieve a new stylish vibe. Style it with low fade taper or low fade short hair, the choice is yours. There can be as many cool implementations of the low fade hairstyle as you can think of. It never gets old, believe it!