You may not have heard much about the line up haircut, but it's one of the top trending hairstyles for boys this year. The hairdo boasts of short and simple hair with clear and clean edges giving it a perfectly unique vibe overall. This particular haircut actually means that the boy's hairline will be on fleek. However, if it doesn't define you how the hairstyle actually looks like, here we have the best variations of the haircut listed for you. Let's have a look.
Straight Line Up Haircut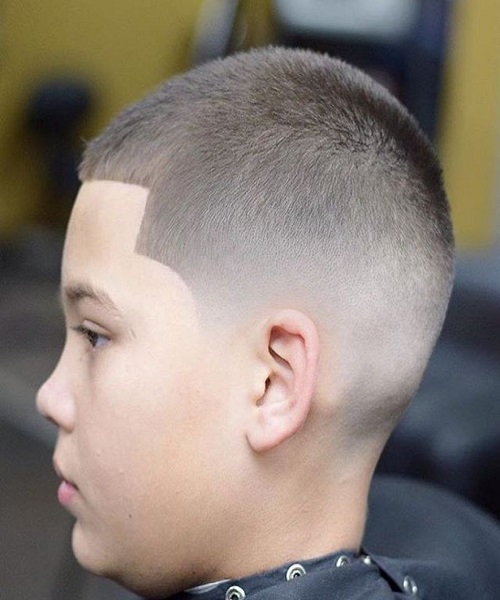 Source: Cool Short Line Up Haircut
One of the best kids hairstyles out there, this one is quite sleek and elegant. The hair on top is styled nicely forward and it's kept all short on top. The sides have a nice faded look which blends nicely into the top hair. The edgy temples really make for a perfect line up style.
Line Up With Short Curls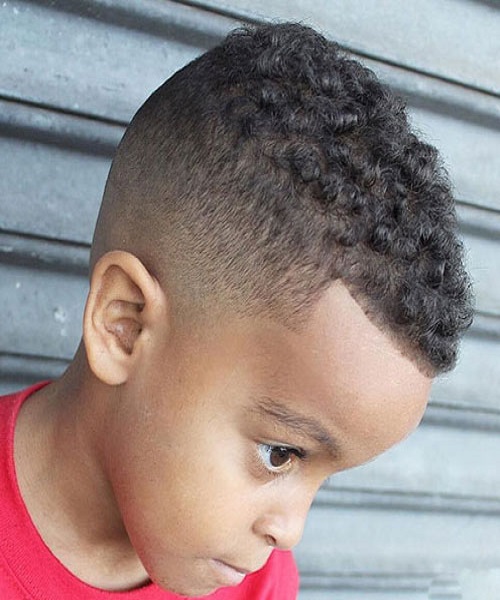 Source: Men's Hairstyle Today
This cool line up hairstyle variation is a perfect choice for kids with naturally curly and kinky locks. The hair on top is trimmed short so that the curls can be left soft and gentle. The sides have a nice fade as the perfect line up style is created around the temples. The little bit of contrast in length between the hair on top and the sides looks really amazing and makes for a perfect hairstyle on any day.
Short Forward Swept Line Up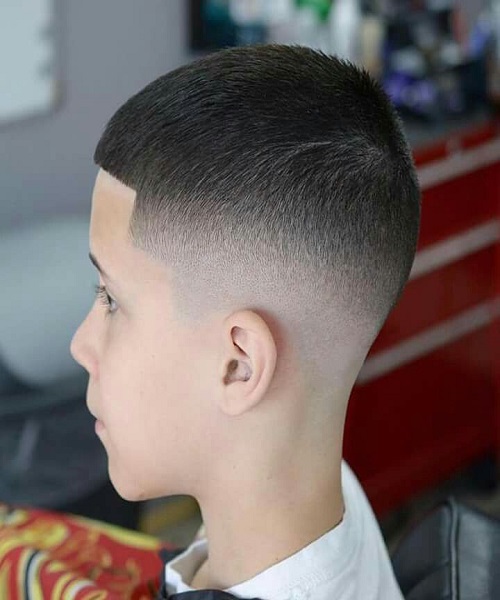 Source: Broccli
This cool variation of the line up hairstyle is very much the same as we have above but the fade here starts higher on top. It's a skin fade on the sides that complements the overall hairstyle to perfection and makes for a wonderful look on any day. Simple and easy to style, this low maintenance haircut won't require you to put in too much of effort.
Curly Flat Top Line Up Haircut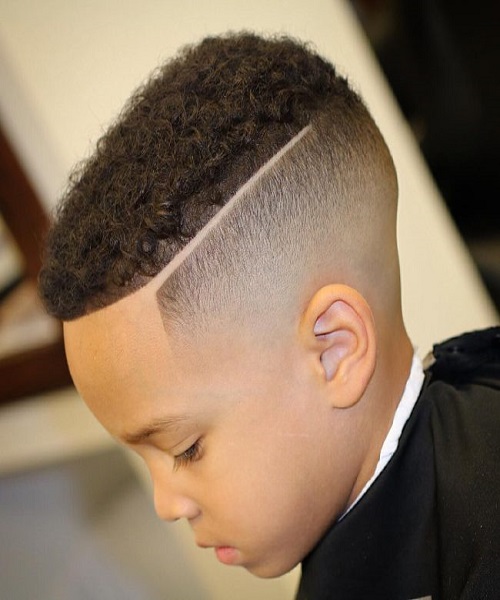 Source: Machohairstyles
One of the best hairstyles for curly hair types, this cool line up haircut creates a uniquely amazing vibe. The hairstyle boasts of a flattop with naturally curly hair and there is a surgical line up that defines the look to perfection. Faded sides blend into the hairstyle rather elegantly and a nice and cool look is created with a gentle touch to it.
Spiky Line Up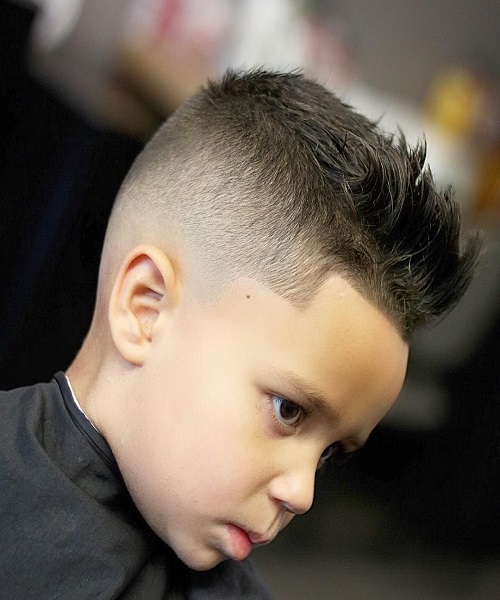 Source: Mohawk
You have seen the simplest of looks so far on this compilation of lineup haircuts, but if you want something funky and special then this is the hairstyle you would want to adopt on any given day. The haircut is a typical short lineup style with fade on the sides but it requires the hair to grow longer on top moving towards the front from the crown area. The front is styled into a perfect edgy and spiky look and creates a perfect vibe overall. You can't ask for anything better.
Line Up With Temple Fade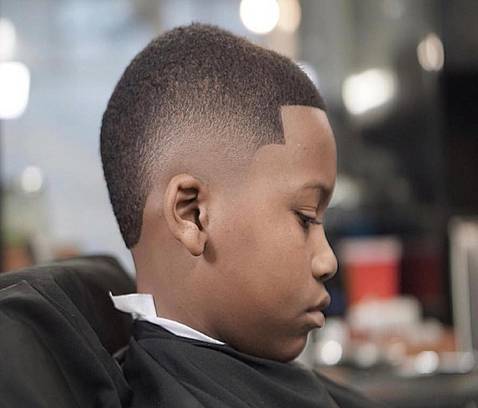 Source: Men's Hairstyle Trends
Another cool variation of the typical lineup hairstyle, this beautiful hairdo boasts of kinky hair trimmed short and tight to the head and it features faded temples as well. The line up looks just perfect and the hairstyle doesn't require much of maintenance either because of very short and nicely trimmed locks on top.
Messy Line Up Hairstyle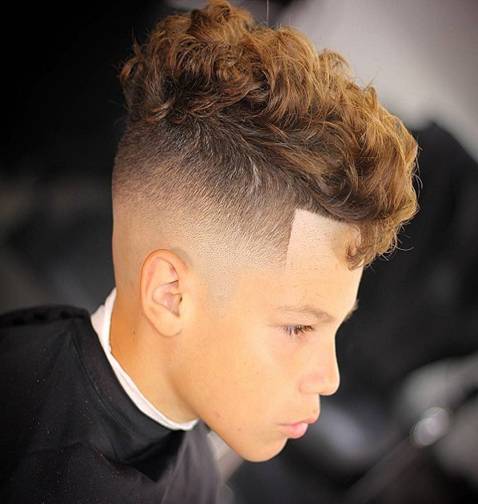 Source: Lahostels
If you want to make your kid's haircut look a bit more stylish rather than being simple and bland, this is the hairstyle you'd want to go with. Contrary to the ones above, the hairstyle requires the hair on top to be grown long and feel a bit messier. The naturally wavy mess on top makes a unique style statement and it really looks nice with the line up hairstyle and faded sides. Overall, it looks perfect.
Kinky Line Up With Surgical Line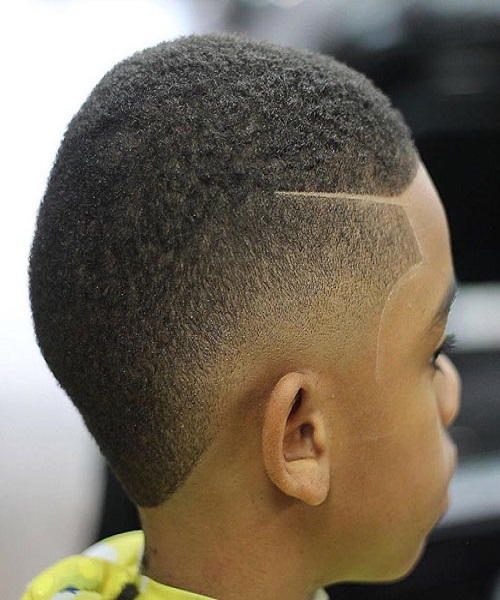 Source: Mens Hairstyles Today
This cool hairstyle is a perfect choice for black boys haircuts as it's just tailor made for the naturally kinky locks. Trimmed short and tight to the head, the hairstyle reduces the natural kink of the hair to minimum. It gets a temple fade on the sides and a touch of style is added to the look by creating that cool surgical line on the sides. It looks gorgeous and makes for a perfect hairstyle overall.
Comb Over Hairstyle With Line Up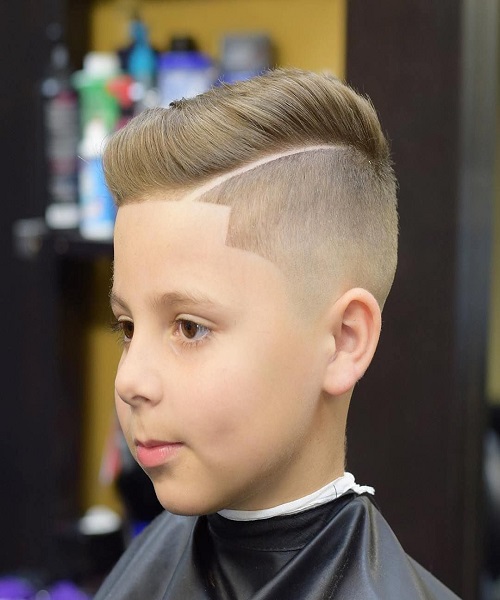 Source: Menhairdos
This is another cool line up haircut that gives more of a perfect and classy touch to your kid's style. The hair on top is required to grow a bit longer and it's combed over nicely before securing it into place with the help of a styling product. A hard part on the side with a line up, it really makes for wonderful formal look that your boy can flaunt in style anywhere he goes. It will let him make a statement and he'll surely look gorgeous.
Quiff Hairstyle With Line Up And Hard Part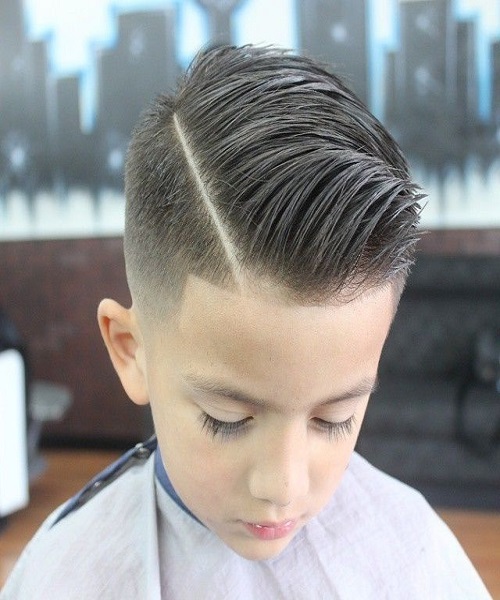 Source: Hairstyles Ideas
Yet another gorgeous look for your little boy to flaunt, this one is actually a semi-formal look that makes a unique vibe overall. The hairstyle requires the hair on top to be grown longer and styled into a beautiful Quiff combed back to perfection. A perfectly textured top looks just amazing and it is balanced nicely with the faded hair on the sides that have a line up style to them. A hard side part takes the hairstyle to the next level and its edgy appearance is what everyone would love about it.
So, if a line up haircut is what you want to give to your kid this year, it would be a perfect choice for sure. A unique stylish look is what's going to be trending this year and nothing can beat a line up in that respect. Just go through all the variations above and see which of them is going to look the coolest on your little boy and choose accordingly. Let him rock in an all new and different style!