Hairstyles make an important part of your personality and a cool hairstyle can easily define how adorable you look on a day. Whether it is for your regular routine or you are planning to have a wonderful look for a party, you should look into the coolest hairstyles for long hair and give yourself a personality lift. Yes, that's pretty much possible with lots of amazing hairstyles for girls out there. But which hairstyle you are going to sport when is a really important decision to make.
Hairstyles For Long Hair To Give Your Girl A Facelift
Long hair always looks adorable and when you style them to perfection, they become even better. And, if you want some variation in long hairstyles, here we have a few cool ideas for you to consider.
Fancy Braided Hairstyle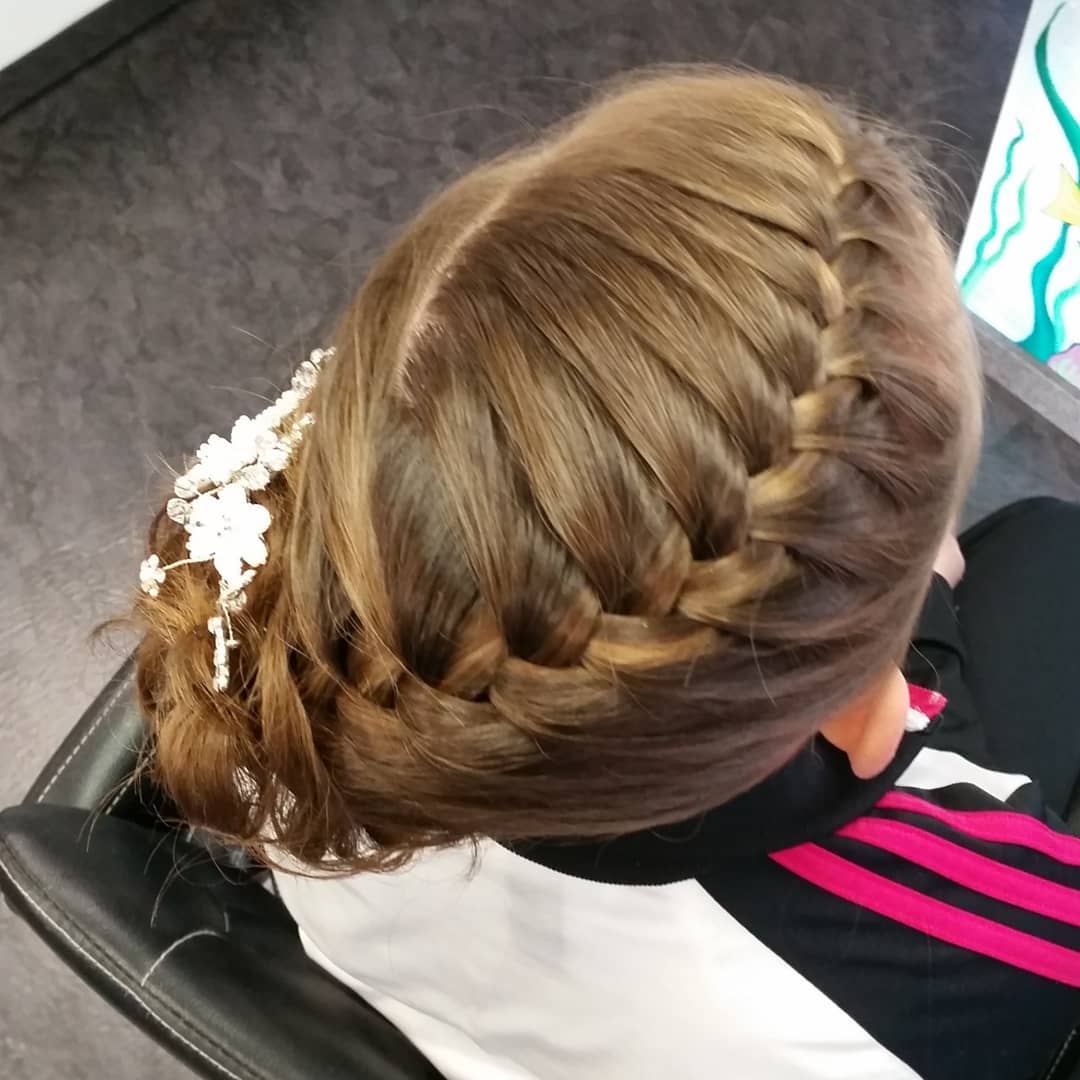 Braids always make a stylish hairdo and they often require you to have long, beautiful hair to achieve a braided style to perfection. And, with so many cool variations of the look available, you can look fancy on any day. Have a look at this beautiful hairstyle that boasts of three braided layers starting at the front and going all the way to the nape area slightly curving towards aside before being secured into a nice and long wavy ponytail. A bold accessory will make it look even better.
Half-Loop Braided Style
Long and open hair doesn't require any styling effort at all. But to make it a little more attractive, this beautiful hairstyle adds a half-loop braided look to the hair and makes it look gorgeous overall. The braids start at either side of the head and end at the back after being secured with a colorful bow accessory.
Loopy Faux Hawk Style
For a more organized look, your long and beautiful hair can be formed into this cool loopy faux hawk style. It resembles more with the typical bubble ponytail but it is actually not that. The faux hawk look is created by securing the long hair in loopy sections and it is further amplified by adding those colorful hairpins. Overall, it really looks gorgeous.
Twisted Girly Pigtails
You might have seen many amazing pigtail variations but this one is quite unique and different. The hairstyle requires you to part her hair in the center and then form cool twists at an angle. Start one at the front and take it across the head to secure into a pigtail. Start the other one at the nape and take it across to form the other pigtail. Add ribbon accessories to complete the look.
Messy Pigtail Buns With Braids
This is quite a stylish implementation of the beautiful pigtail buns. The hairstyle is more about a messy and casual look which is achieved by parting her long hair in the center and creating braids at either side. Start braiding at the front and take it to the back of the head before securing into messy, flower pigtails that look gorgeous. Overall, it's a wonderful look to flaunt in a casual routine.
Loose, Wavy And Simple Hairstyle
As simple as it is, the hairstyle looks gorgeous. A simple side part on top makes that beautiful side-swept look. However, the styling is actually done at the back of the head where the beautiful long hair is given a nice wavy touch. It looks voluminous, and it just looks amazing.
Side Braided Hairstyle
A perfect mix of simple and stylish looks, this beautiful hairstyle is just stunning. Styled with a center part, it keeps things simple on one side by sweeping it all to a side while it takes an intricate approach on the other side where the hair is formed into three parallel braids that go all the way to the back before opening up into long and beautiful hair. When achieved with long, blonde hair, this hairstyle has volumes to speak.
Mid-Back U-Cut Hairstyle With Swoopy Layers
Long hair can be given a unique and different look by cutting the tips in a specific shape. Here we have a perfect implementation of this idea. The hair at the back is given a nice 'U' shape with a perfect cut. The swoopy layers really take it up a notch.
Criss-Cross Braids
Source
Braided hair can always be given a nice look when formed in a typical criss-cross manner. This cool implementation of the idea creates amazing vibes no matter when you style long hair into this beautiful look. Achieved with a center part, the look requires the hair to be braided and go crossing over other at the back before being secured into cool open pigtails. Add ribbon accessories to it and it will look even better.
Double Braid Tieback
Source
This one may not be the most difficult of styles to achieve but it does create some stylish vibes. The hairstyle boasts of nice combed back hair with thin double-braids created on either side of the head that join at the back before forming two parallel braids and blending into the rest of the hair that is left open. A stunning hairstyle implementation for sure!
Quick Half Updo
Like many other hairstyles for long hair, the half updo styles can also have some unique variations too. What about this party look? The hairstyle boasts of a nice puffy side-swept look at the front while there are cool parallel braids on the side. It's left all open at the back and everything just sets in rather nicely.
Young Punk Braided Hairstyle
A punk look is always appreciated and that stands true for this gorgeous hairstyle as well. It looks simply amazing and you don't find such beautiful hairstyles every day. A thick fishtail braid formed on top, this hairstyle makes amazing vibes. It is pretty organized and it looks cool too. You can wear it both in everyday routine and on parties and special events too.
Wavy Long Hairstyle With Thin Braids
This cool look boasts of nice and long wavy hair that falls over the shoulder on either side. Achieved with a center part, the hairstyle also has another cool element of style in the form of those thin braids at the front. The hairstyle is pretty cool and will give you a Barbie look on any day.
Side Parted Hairstyle With Sectioned Top
This beautiful hairstyle is achieved simply by creating a side part and sweeping her hair to aside. However, before you go on with that, make sections on top and sweep the resultant layers to the side. It's simple, and it looks gorgeous too.
Finding the coolest hairstyles for long hair may not be a problem, particularly with so many amazing implementations around. Just figure out which of these beautiful looks you'd like to sport next and go for it.