If you are in love with the braided hairstyles, you must have heard – and even tried to achieve – about a French braid. One of the coolest braided hairstyles out there, this cute looking braid has its own sense of style and uniqueness that sets it apart from the rest. The hairstyle works best for parties and special events where you want to make a statement and grab every eye making people to have a second look at you at every cost. But how do you achieve a French braid? Are there any variations to the look?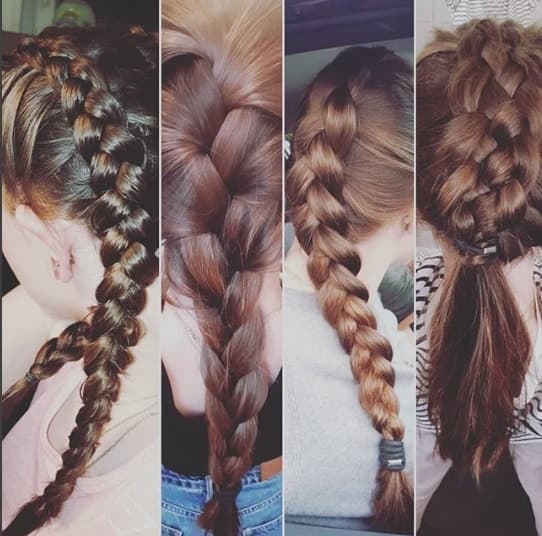 Can you achieve the look all on your own? Well, the answer to all these questions is yes and we'll be discussing everything here.
So, let's see how to get a French braid step by step.
How To Create a French Braid Step By Step?
Given below are the steps to create a simple French braid that works for most occasions and events. With a little bit of effort on your part, you can easily create a cool looking braid in French style that looks awesome. Let's get on with it.
Grab some hair on top and divide it into three sections namely right, left and middle.
Grab the section on the left, make it go crossing over the one in the center and then blend it into the section on the right.
Grab the third section on the right and make it go crossing over the one in the center and then blend it into the one on the left.
Now again, grab the hair from the section on the left making it to cross over the one in the center and combining eventually with the one on the right. That's the thing you've to repeat now. You may find it a bit confusing to start with but as you continue to do that, you'll surely master the technique within a short span of time. Add some more hair from right side and then cross it over the center. Next, add some more hair from left side and then cross it over the center. That's pretty easy! Keep repeating the pattern right to the bottom. Make sure that you keep checking in a mirror as you continue to braid so that you may not go wrong at any point.
As soon as you reach nape of the neck, bring the hair to a side and then complete it with three strands braids.
That's all, you have successfully created the braid.
French Braid Ideas
As you have become familiar with the French braid now, there are quite a few different hairstyles that can be achieved with this lovely look. You can always pull the braids' sides and make it look more loose and voluminous to get an even better feel overall. Some cool hairstyles that you can expect to achieve with a beautiful French braided look can include relaxed French braid, French knot half do hairdo, triple braid hairstyle and many more like these.
Check the Other Post: FISHTAIL BRAID – HOW TO CREATE A BEAUTIFUL STYLE TO FLAUNT
How To Do A French Braid On Yourself
For times when you don't have anyone around to style your hair into a cool looking French braid, you should do it yourself. Yes, you can do it quite easily all on your own by following a few simple steps.
Let's check out how to do a French braid step by step all by yourself.
Start with the unwashed hair and avoid any thick conditioners to ensure that there is some texture to your hair. You should particularly avoid the ones that come with silicone because they all can make the hair slippery. If you have to shampoo at all then ensure that you use sea salt spray once you have towel-dried your hair to get some additional texture and weight.
Now, as usual, create three different sections of hair by separating it around the crown. Grab the hair from left section and cross over between the ones in the center and to the right. Yes, that's regular practice as you do with simple braiding.
Now you have to crisscross these sections. You can pick up the layers of hair with the help of index fingers grabbing it right under the crown just outside that plaited area on the way. It is advised that you pick up sections of only half an inch so that the braid can be kept in balance. Keep pulling these sections into your French braid.
You can add a bit of style with a few loose ends. The layers that are in front of the ears should be allowed to fall out of your braid by themselves as it makes for a stylish look. In order to ensure that it doesn't look too messy, you can pin a few of longer layers in the base.
Finally, secure it. Make sure that you leave almost 2" of hair behind without braiding it and secure the hairstyle with elastic. The braid can be shaken a little from its tail allowing it to loosen up a bit and letting the hair to look a lot thicker.
That's it, you can do these simple steps on your own to achieve a cool braided look that is as stylish and cool as ever. Once you have created the braid, you may want to perform an additional step in order to hide that elastic tie. Doing so will make sure that you get a completely natural look.
For hiding the elastic band, pick a hair strand from that 2" length that you had left behind unbraided and wrap it around that elastic which you had used for securing the braid. In the end, you can mist some hairspray all over to ensure that you have a better hold and the look remains intact for longer. But if you don't want to do that, you're still good by letting the braided tail hang free and loose.
How To French Braid Pigtails?
As mentioned earlier, you can create as many variations of the French braid as you might like and there are quite a few unique hairstyles that you can achieve with this beautiful look. Now, if you have some love for the pigtails or you are going to attend an event where the theme requires you to style your hair into beautiful pigtails and you want to make it look a lot more stylish, you can always go with French braid pigtails.
What?
Don't know how to French braid pigtails? Don't worry; here are the steps you need to follow for creating a beautiful look by French braiding your pigtails.
Part your hair from the center after properly brushing it all over. One thing to remember here is that the part should start at the hairline and must go all the way down to nape of your neck. Grab a couple of hair sections over the shoulders just like you do when trying to tie the hair into beautiful pigtails. Also, keep in mind that the hair part shouldn't necessarily be some very straight line. You'd be able to achieve a cool bohemian style by going with an uneven, messy part. Similarly, you can also create a zig-zagging part for adding sort of a funky look to your hairstyle.
In the next step, you have to make a foundation braid. Select a particular side to start and then take a minor hair section of almost 0.5" from the hairline, separating it from rest of your hair through fingers. Now make three strands out of this separated section and create a foundation braid. It's nothing fancy but a simple standard braid. Now, take the strand on the right and cross it over the one in the center. Similarly, take the strand on the left and cross it over the one in the center. It is a good idea to secure other loose side using some hair band as it will be helpful in keeping that from combining accidentally with side that you're currently braiding. The foundation braid that you've just created should be on a side of your head. As you are going to create French braided pigtails, you must braid down on either side of the head. The braids have to sit between the part and your ears. If you intend to achieve a braid that is a bit looser, start with the bigger section. For those with really thick hair, working in bigger sections would be preferable.
Now, you're ready to start with your French Braid. To begin, take some loose hair towards right side and cross the strands on the right over the ones in the center while trying to pull those in the center towards right side. Add some loose hair to the hair section on the left side. Cross the strands on the left over the newly added strands in the middle and pull the strands in the center towards left side. Make sure that your hands are quite close to your head as you want to keep the braid tight. As you continue to add strands to each section, ensure that you go with an equal amount every time. Doing so will allow you to ensure that your braids are created uniformly and neatly.
Moving down towards the side, continue to French braid your hair. Pull your hair from around hairline towards the front forming the braid along the parting towards the back. Every time a layer of hair is needed, separate hair being added in horizontal line. Once there is no more hair left behind for braiding purposes, continue to braid in conventional 3-strand braided style. Also ensure that the braid is kept tighter while you create it and you can do that by pulling the hair sections apart from one another.
In the next step, you have to secure the look once you have reached your desired length for the braid. Use hair ties to tie it together and you can also add some ribbons, hair clips, or other such accessories for complementing the look.
Once you are done creating a French braid on one side of the head, you can do the same on the other. Repeat steps 2 to 5 on your hair on the other side. Remember that the braids must look identical in order to achieve a perfect style. Stop braiding parallel to the point where you stopped doing so on the other side. Also, use matching ties and accessories on both the sides.
Source: Bbraidsbyfisher
In case, if you want a different style for French braided pigtails, don't braid right down to tips of your hair rather stop braiding at your neck's nape. Use a hair tie for securing the braid. Leave the hair hanging over the shoulders loose and you can then curl or straighten these strands to complete the look.
You can also braid your hair into a bun to achieve another cool French braided look. Once you are done with one of these braids, the braids' tail should be pinned into a cool bun towards back of the head and the tail should be wrapped around. Use bobby pins to secure the look and repeat the same process on other side. Pin other braid right above the bun. Also, use bobby pins for holding the bun.
Pigtails always look cool, especially when braided, but you have to be choosy on when you want to style your hair into that look. Yes, you can't wear the look on every event that you have to attend. However, if you are looking for some other variations, you can do 2 French braids in a couple of other ways as well. Let's take a look.
How To Do 2 French Braids
Here we have listed a couple of other cool options you have when it comes to creating 2 French braids on your hair. Both the hairstyles look stylish and aren't really that difficult to achieve either. So, let's check out how to achieve these cool looks.
How To Create 2 Side French Braids
The first look that you can achieve with 2 French braids features a side braided style. The hairstyle is gorgeous and makes for a perfect vibe. Here is how to achieve it.
Brush your hair properly and then part it all in the center. Make sure that you part it starting at the hairline and ending at the crown, not going down to the nape of the neck.
Again, start with foundation braid as you did with French braid Select the side that you want to begin from and take small hair section close to the face on that side separating it from rest of the hair. Divide it into three layers of strands with equal volume and size. The foundation braid should be created here to achieve a standard braided look by crossing the layer on the right over the one in the center and then crossing the left layer over the one in the center. These braids will be used as small strands swirling around the head and meeting right in the center. Here you don't have to braid all the hair in those layers.

An alternate to achieve same style would be creating a couple of larger braids. It will make the style look a bit different. You can achieve it by following those same steps but you will have to add some more hair. The bigger braids should angle more downwards as compared to the smaller ones and will meet right below to crown rather than in the center of your head.
When starting this foundation braid, make sure that you create it an angle going away from your face and towards back of your head. Never think of angling it downwards.

Once you are done with the foundation braid, it's time that you start creating the French braid. Start by adding small hair section to the layer on the right and cross the strand that has become larger over the center layer. Now, similarly, add a small hair section to that layer on the left and cross the strand that has become larger over the one in the center. Keep doing so as your head curves and go along with that. Stop braiding as soon as you have reached the center of your head and secure the braid with the help of a hair tie or a clip.
Now repeat the two steps given above on other side. Make the two layers of hair to meet in the center of your head towards the back side and they should have the same size more or less. The braids will form a half braided ponytail and most of the hair will remain loose.
Next, you need to combine your hair. Take hair ties or clips from both the sides of that half ponytail and add the two strands together.
You can then style those 2 French braids that you have just created along the head in whatever way you like. A hair tie or clip can be used for securing that half ponytail to create a cool looking half updo hairstyle. You may even like to pull your hair together and form a cool ponytail. For some sophistication, however, wrap your ponytail around to form a beautiful bun and use bobby pins to secure it.

If you choose to go with a bun or ponytail, both your French braids that you have just created will stay right above the bun or ponytail.
Both the braids can also be joined together to form one, 3-strand braid which goes down to the back. For that, you will have to combine the middle and left section of the left braid into a single layer on the left and then combine right section from the left braid with the left section from the right braid to form a single layer in the center. Next, you will need to combine the right and middle sections of the right braid to form a single section on the right. After that, you can braid as you do to achieve a conventional 3-strand braid.
Side French braid has always been considered as a sign of sophistication and when you can achieve a couple of them in a single hairstyle, you certainly are compounding the effect. So, achieve this cool look and you can rock the party anywhere you go.
How To Do 2 French Braids Crown
If you are interested in creating a cool look with 2 French braids but aren't very comfortable with the idea of creating two braids on the side, an alternate option for you is to create 2 French braids crown. This is another interesting look that features a couple of French braids but has an altogether different vibe than the one described above. So, if you are getting interested, below are the steps that you need to follow for creating this wonderful hairstyle.
As usual, you have to start by brushing your hair properly and parting it from the center. The difference here, however, is that your part should start at hairline and must go all the way down to your nape's base. Use hair tie to secure the hair on one side. It will ensure that they stay out of your way till the time you have to use them. Another alternate for you here is to part the hair to a side for creating a couple of braids each with a different size, or you may also want to create a messy, soft part.
Once you are done with the first step, you have to create the foundation braid that you must have become quite familiar with by now. To achieve it, grab hair from the base of your neck and divide it into 3 different sections. The strands from the right section should be crossed below the one in the center and then the strands in the left section should be crossed below that same center section of hair. As a result, you will be able to achieve an anchor braid.

An alternate option for you here is to create your braided crown simply by French braiding the hair in the form of beautiful pigtails and then wrapping both the braids up and around the head. The ends should be tucked under and then the braids should be pinned to the scalp.
Next, you need to start braiding your hair in Dutch braid style. To create the look, add some hair in the layer on the right and then cross it underneath the one in the center. Now add some hair to the layer on the left and then cross it underneath the one in the center. Keep braiding towards the top going all along the head.

Here, don't just get confused with the name Dutch braid just because you were actually looking to achieve a French braid. The Dutch braid is actually a French braid that is created in an inverted or reverse style. It requires the hair to be braided under rather than over which is normally the case with a standard braid achieved in this style.
The hair should be braided starting at the bottom and going upwards rather than starting at the top and moving down.
It might also be necessary for you to comb your hair upwards prior to beginning with the braiding process to ensure that your hair already goes in that particular direction.

Now, as you have to create a beautiful crown braid, you should keep braiding around your head. Make sure that the braid swirls around the head going with its curve. You can keep creating the Dutch braids by adding some hair to outer layers of your hair and then crossing under. Just ensure that you add an equal number of strands to the layers every time in order to achieve an even and uniform look.
As soon as you reach the center part towards the front, you have to make a switch to the plaid braids. Once you reach this point, you don't need to add more hair to that particular side. This is where you have to discontinue Dutch braiding the hair and start plaiting instead. As you might already know, plants are simple 3-layered braids and they will be used for completing that side. If you don't have more hair at the part, you can just tie it off. As the style works perfectly on long hair, you might want the braid to end somewhere close to the forehead, however.
Once you are done braiding, you have to secure the French braid using a hair tie. Remember here that you should use hair ties that are covered in a fabric as it will be helpful in minimizing any damage risks and your hair will stay safe. Go with a tie that also matches your hair color and blends nicely into it otherwise it may look odd making itself easily noticeable.
In the next step, you have to pin the hair down as you follow your head's curve. The braid's tail should be wrapped around the head going the farthest it possibly can. Pin the braid using bobby pins and continue doing that as you're wrapping the braid. At the point where the braid ends, the tail should be tucked into the hair and pinned down right there as well. Try hiding the tail behind the ear and if your hair is too long then you may want to wrap it all around the head before it ends at nape of the neck.
Once you are done with all that, it's time to start braiding on the other side. Not like the first side, however, this braid should be started from the top of your head. Start right where the parting is and continue to repeat steps 2 through 5 to create Dutch braids down that side of your head. It would be pretty much similar to what you had done earlier on other side and the braid will keep curving along your head. And again, you will have to make a switch to conventional 3-layered braid as soon as you are at center part towards the back of the hairline. After that, the braid must be wrapped and pinned.
Once you are done achieving the reverse French braid on both the sides, you have to wrap both the braids around your head. Use bobby pins for securing both the braids that you have created and tuck the hair underneath the hair bands as well as hair bands themselves right below your braids. Finally, secure the look with the help of bobby pins.
That's it; you have finished creating your beautiful 2 French braided crown which really is a royal look that everyone wants to achieve. The hairstyle looks gorgeous and will allow you to make a unique statement regardless of the event that you want to wear this beautiful hairstyle on.
So, that's all about the cool-looking French braid and all the beautiful variations of the hairstyle that you can achieve. We have discussed some of the most common variations of the hairstyle describing exactly how you can achieve the French braid step by step and style it in the most unique and creative ways. It's nothing too simple and it's not too hard to achieve either. In fact, you can achieve the look without any external help if you know exactly how to do a french braid on yourself. Just try it and you will really love the hairstyle when you will see everyone praising how cool it looks on you.