The Dutch braid has become quite a versatile hairstyle option for girls as it can be added to just about any hairstyle you like. You can completely change the look of a hairstyle by bringing in some Dutch braids.
Braids aren't just the next trend that has already started picking up, they are also helpful in keeping the hair out of the face. So, you can feel cool even in the hot weather conditions or you may participate in your favorite sport as well without any problems whatsoever.
As far as the Dutch braids for girls are concerned, you can try out different braiding techniques and angles. You may want to choose between casual and dressy looks or you'd like to leave a few strands down as well. If you have enough length to the hair, you can add this hair feature to just about any hairstyle you like. The hair can be braided both loose and tight depending on your preference and you can also choose between single and multiple braids. In addition, you can accessorize the hair as well if you want to.
Top 10 Dutch Braid Hairstyles For Girls
Some braid designs might look complicated, but it's always going to stay put because you have secured the hair in the key areas. On the other hand, some braided designs would be simpler than the others. If you're looking for hairstyle options for your little girl, a Dutch braided look is definitely going to make a chic look out of her beautiful long hair.
Here is our list of top 10 hairstyles for little girls that you could try out. Let's see what options you have.
Single Long Plait For Long Hair
So, if your little girl has very long locks, this is the hairstyle you'd want to go with. The braid starts right on top and continues from front right to its ends. With very long hair to deal with, it's your choice whether you want to pull it to either side all across her shoulder or flit it around so that it can trail down the center of the back. You might also have the temptation to try out something creative with her beautiful and long Dutch braided hair. She can wear this beautiful style both with casual and dressy clothes.
Double Dutch Braid With A Bit Of Mess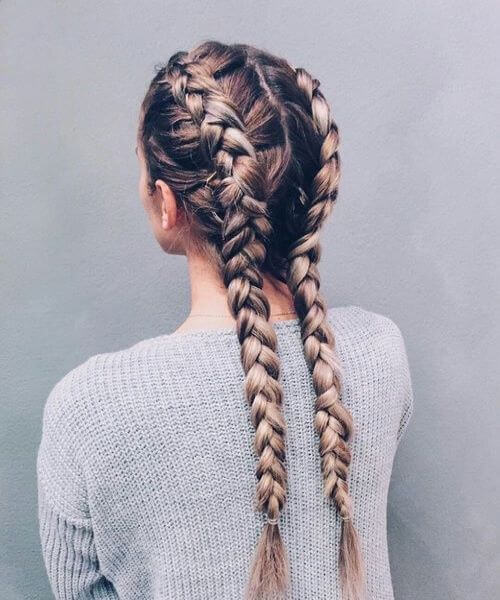 source: Pinterest
This beautiful hairstyle requires you to braid it around her head loosely on either side. Leave the bottom of both the braids from the nape of her neck down. You'd notice how beautifully the braids accentuate her hair if you add multiple colors to her strands. Braids really add so much dimension to the hair with multiple colors and highlights.
Dutch Braid With Beautiful Low Bun
source: Pinterest
The girl's hairstyles that have multiple styling elements to them always look great and this one here is a perfect example of that. A single loose braid or a couple of them going across her crown and ending in a messy, low bun at the nape of her neck is definitely going to make a statement. For a more natural and sophisticated look, you can leave some strands out of her updo. Add some highlights and it will take her beautiful braided hair to the next level for sure.
Fishtail And Dutch Braid Combo
source: Pinterest
Ever thought to get this creative with your little girl's hair? It really looks gorgeous. The hairstyle is achieved with a parting on a side with Dutch braids created close to the head on either side. Starting the parted side low, while the other one kept high, these braids join together behind and form a beautiful fishtail braid as it is pulled to the opposite side of the part. The hairstyle looks pretty medieval and nothing less.
Dutch Braided Crown
source: Pinterest
The variety of hairstyles that you could pull off with braids is just amazing. Take this one, for example! For this one, you have to start braiding on the opposite side while continuing it across the hair on top and then moving down towards her ear. The hairstyle requires a bit of unusual technique to achieve a perfect style and it adds some extra texture to braid. The braid is finished toward a side.
Double Braid With A Low Bun
source: Pinterest
This one is another cool and gorgeous look that requires you to have loosely created Dutch braids on either side moving all the way to the nape of her neck. After that, gather long ends to form even looser and larger low hair bun right there. More dimension and texture can be achieved if your little girl has lighter hair at ends rather than towards the roots.
Asymmetrical Chunky Dutch Braided Style
source: Pinterest
This beautiful hairstyle sweeps across on top and it remains thick as it moves down. You can keep it messy if you like to. The look is gorgeous and looks stunning if there is some variation in the hair color. You can find it to either side as you like. She can wear it with a beautiful casual outfit.
Bottom-To-Top With A Big Hair Bow
If you want to make her Dutch braided hair look extra unique, this is one of the best hairstyles for girls that you should do for her. If somebody tells you the Dutch braid can't start as low as the nape of her neck, they've got it all wrong. Just follow this example of the braided hairstyle, start braiding at the nape and move all the way to the crown where you can stop braiding and tie it together into a massive bow. It will look amazing for sure.
Soft Dutch Braided Hairstyle
source: Pinterest
It's a cool look and it can't get any better with a braided hairstyle than this. The hairstyle starts the braiding in the front where it is not much thick. Afterward, as you gather more hair into her braid, it will keep getting thicker. It looks quite loose and soft, particularly, if your girl has the luxury of very long hair.
Long And Loose Side Braided Hairstyle
source: Pinterest
This one really looks dramatic. It requires you to brush her hair to a side and you must take part of her hair in initial braiding. The braid then picks up the sections gradually from all her remaining hair. Eventually, it is worked into a beautiful side braid that drapes over her shoulder. It's quite thick and loose and may require a bit of teasing.
So, which of these beautiful Dutch braid hairstyles do you like the most? All these are the trendy looks and they will surely make your girl look awesome. You can try any of them with full confidence.