Hairstyles for black girls have always been a subject of discussion. There are a lot of them around but dreadlocks have really impressed little girls over the years.
However, the most challenging thing about achieving this beautiful hairstyle for black girls is that you must come up with new ideas on how to differentiate your girl's look than others.
If you have tried all the different types of hairdos that might come to your mind, and are looking for some new dreadlocks hairstyles for your little girl, here we have 10 best options you must consider this year.
Long & Open Dreadlocks
Keeping it long and open, falling over the shoulders is probably one of the best options you have. You don't really need to give it any shape on a daily basis.
Just achieve thick and beautiful dreadlocks on top and make it fall down over the shoulders. It looks beautiful as it gets slimmer going down towards the tips. It's a hassle free hairstyle.
Medium Length With Flat Top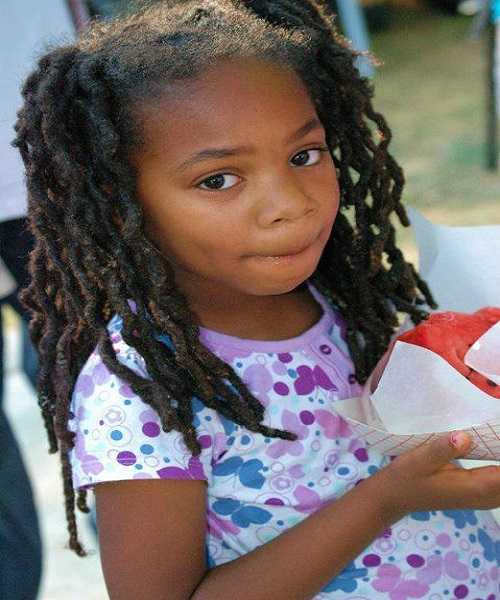 You don't always need to start twisting your girl's hair together on top. If you are looking for a variation to the signature style, you should start creating the dreadlocks on the sides high up. Leave them messy and open falling on all sides to make it look perfect overall.
This one is different from the one above in another aspect and that is the locks are not thick enough and they don't come straight down rather have slight twists in between.
Kinky Top With Colorful Hair Band
Bandannas can add a unique touch of style to any hairdo and that's what we have here. The hairstyle is given a completely different touch with the help of this colorful bandanna that lifts the otherwise bland hairstyle.
The top is left naturally kinky while the hair on the sides is twisted into thin and beautiful locks that create more of a voluminous vibe.
Short Dreadlock Bob
If you have the creativity in you, you can turn a typical dreadlock look into just about anything you like. The hairstyle can get as stylish as it possibly could. The hair on top is swept to a side and secured with a small colorful hair accessory.
The sides are braided into cornrows before getting the typical dreadlock shape and leaving the head. It's a gorgeous look overall and has its own unique vibe.
Tight Combed Back With Side Dreadlocks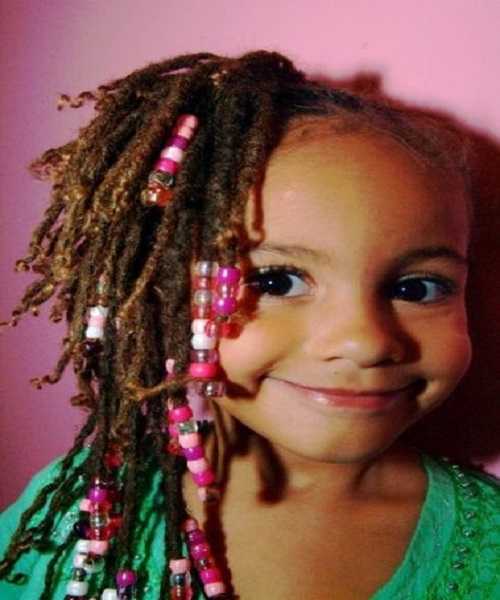 Kinky hair can be styled in so many different ways but you can expect most of the black girls hairstyles to be messy in nature. No matter how tight you want to keep it, there will be some sort of mess evident in the hairstyle.
This cool hairdo is party-ready with tightly combed back hair on one side and messy twisting curls on the other. It's given a puffy look as it falls over the shoulder and is accessorized with colorful beads. Your girl is definitely going to make a statement with this beautiful hairdo.
Kinky Wide Dreadlocks With Natural Accessories
If you don't want to spend too much of your time in achieving an all-out dreadlocks look, this is the hairstyle that you'd want to give to your little girl.
Just take some of her kinky strands from different parts of the head and twist them together to form short beautiful locks. Let the natural kink scream through her hair in between and it will look amazing overall.
Hang some natural accessories with the locks and it will definitely make a unique statement. She can wear the hairstyle both in casual daily routine and to special events and occasions.
Short Bob With Side Combed Top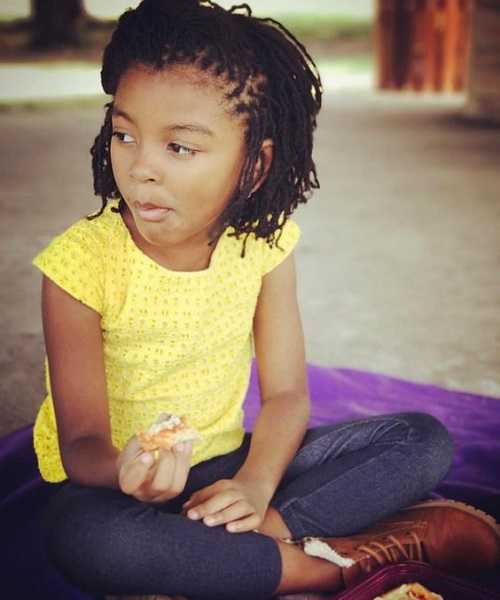 This hairstyle is a cool variation of the typical bob hairstyle that is actually achieved with kinky locks. The hairstyle has its own unique vibe and it looks amazing on black little girls.
The voluminous bob features short and thin dreadlocks and it is side combed on top. It really looks gorgeous overall and isn't too hard to achieve either.
Funky Sectioned Dreadlocks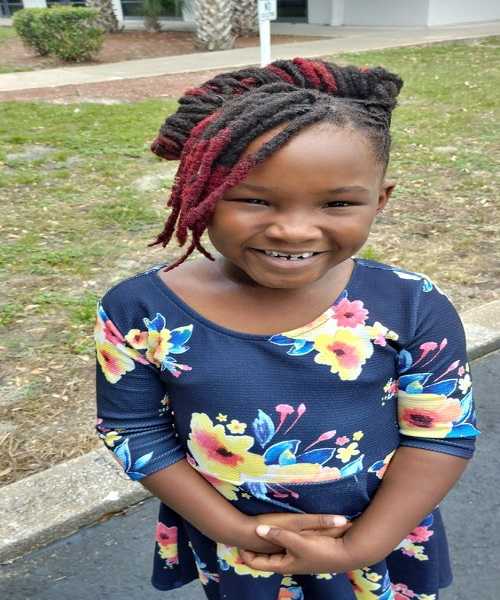 This sectioned hairstyle features thick and short dreadlocks which are all colored halfway through. The section towards the back is nicely rolled and combed all the way to the back while the frontal section is swept to a side and makes perfect fringe.
Overall, the hairstyle looks amazing and it delivers unique vibes. Not many girls would have worn such a look and, therefore, it's a perfect time that you try this out.
Long Kinky Dreadlocks With Combover Style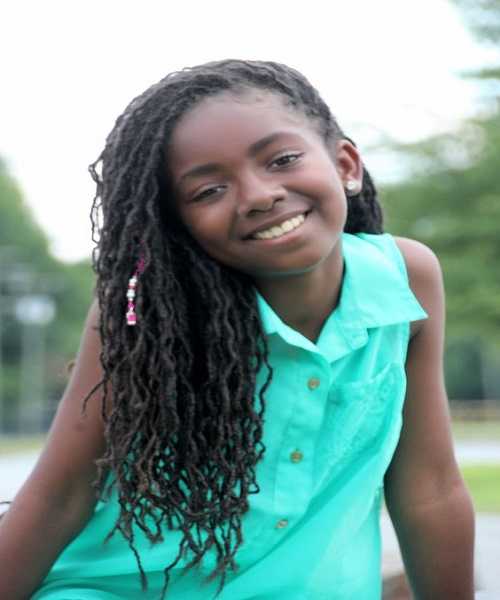 Looking for the best hairstyles for girls with naturally kinky and long beautiful hair? Why not try this cool party variation of the look that doesn't take too much time to style either.
When your girl has the luxury of long hair, all you have to do is to form kinky and messy dreadlocks hairstyle out of it and then comb it all over from one side to the other. It really looks cool and amazing and creates wonderful vibes overall.
Shoulder Length Dreadlocks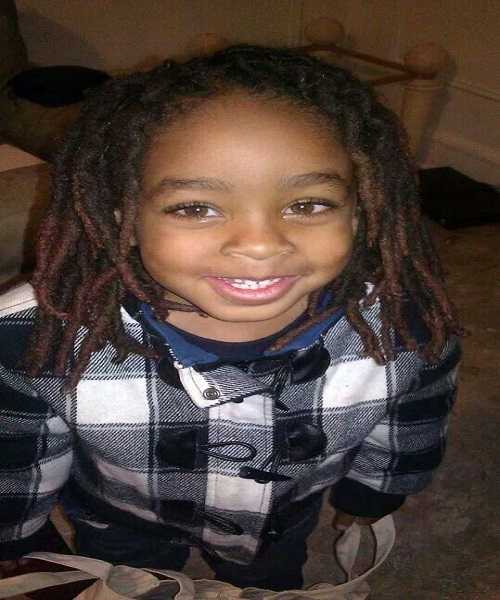 Another cool hairstyle for the black girls, this one is more of a casual routine hairstyle that doesn't really deliver a party vibe. For her short and naturally kinky hair, just achieve typical dreadlocks on all sides and her hairstyle would be ready.
Keep it messy and if you can add some color to it, that will be a plus. With this hairdo, you won't have to worry at all about maintaining it on regular basis.
Dreadlocks really make one of the best low maintenance hairstyles out there and you have to choose the best variation of the hairdo for your little girl.
They top the list when it comes to black girl hairstyles and with so many different variations around it's just the matter of choosing something new and unique. Try a perfect hairstyle for your little girl today!