The kids haircuts can be equally versatile as the hairstyles for the grown-ups. There is a wide variety available today in terms of length, styles, textures, and combinations, and you need to be spot on with your choice to make sure your little boy looks standout everywhere.
You can even find many low-maintenance cute boy haircuts that will make a statement for your little one.
10 Cute Boy Haircuts To Keep His Stylish Looks Intact
As mentioned earlier, there is no question about the versatility of hairstyles for boys and you can find many cute options around.
Regardless of the type and texture of his hair, you are sure to find something special for him that gives him a whole new look and sense of style.
Sometimes, it can be a bit tricky, however, to get your desired haircut for your little one. Therefore, it is important that you pick the best salon near me and help yourself avoid all the issues whatsoever.
Let's not keep you waiting now and dive straight into some of the best hair style boys options that you should be considering now.
Short & Spiky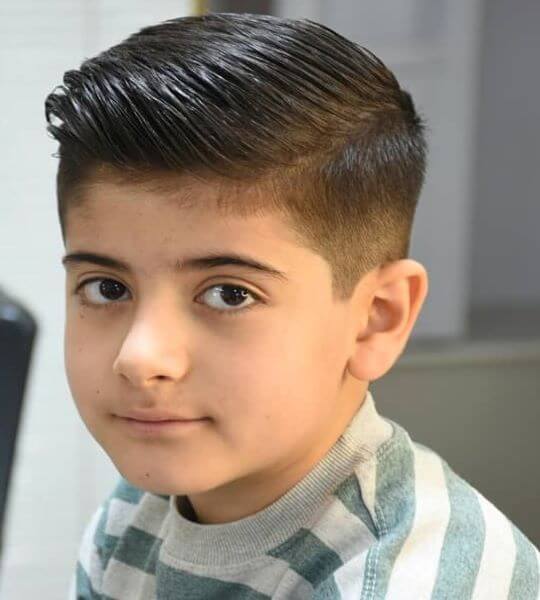 Source: Instagram
Your kids can look cute and simple, and they can also look rebellious and naughty, all with their style and looks. If you are looking for something funky for your little guy, this is the hairstyle that you should be looking forward to.
It is very easy to get spiky hairstyles for kids and they are pretty low maintenance as well. To achieve best results, make sure that your boy has dense straight hair all over his head.
Eventually, the sides will be trimmed really short while the hair on top will be left longer and spiky. A bit of hair gel would be required for creating that classic spiky vibe.
Beach Waves
Source: Instagram
This is quite a unique look and not everyone is interested in achieving this hairstyle. So, why don't you let your boy be the trendsetter and try out this amazing hairstyle? The hairstyle works best for kids who don't have too long or too short hair.
Nevertheless, it turns out to be quite flattering and boys with dense wavy or curly thatch rock this look better than anything else.
Just style it up to perfection with a bit of mousse and get him a relaxed look. You can also spiky it up using strong hold hair gel for an even better vibe.
Side Parted Hairstyle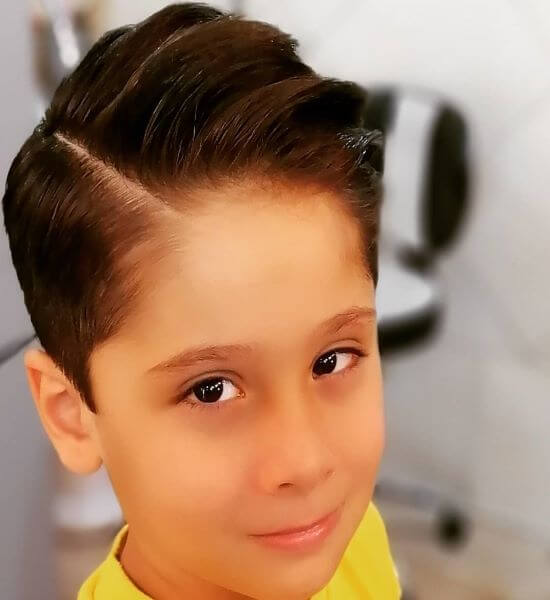 Source: Instagram
If you have always wanted your little boy to be a thorough gentleman, this is the hairstyle that would reflect that same vibe to perfection.
The hairstyle will truly match his personality. Nothing can be as simple and stylish as a side parted hairstyle. First get him a simple haircut with short sides and long top.
Afterwards, create two sections out of it with the help of a straight side part. Finally, apply a bit of mousse and or gel for adding more texture to this beautiful toddler haircut.
Natural Curls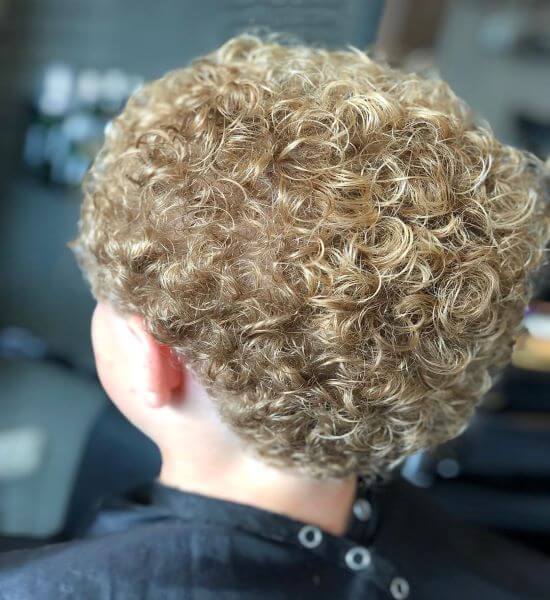 Source: Instagram
Many people don't like it when it comes to styling curly hair but things shouldn't really be like that. Kids with naturally tight curls should take every single opportunity they get for showing them off in style.
Here you have to make sure that the length of his hair is kept as long as it possibly could. Just let him grow it long enough and keep the natural looks intact.
The texture of his hair will be quite eye-catching and you can let him sport the locks lose. Just make sure that his locks are cut in even and proper layers. Apply some mousse and highlight all his hair texture.
Faux Hawk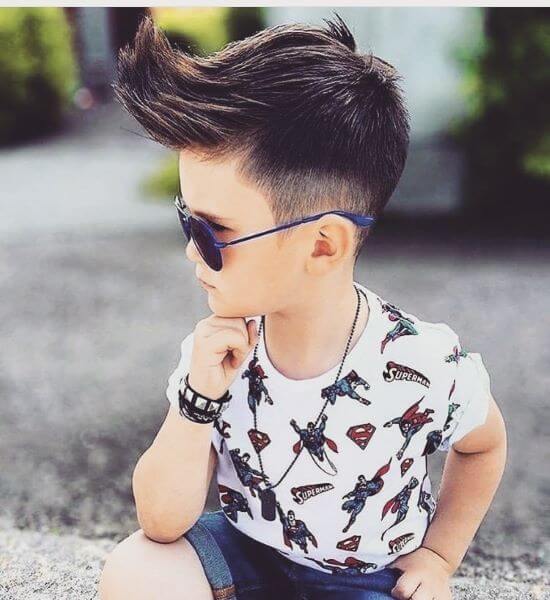 Source: Instagram
This beautiful option among the boy haircuts actually emphasizes your kid's inclination into the rockabilly side. For achieving this beautiful, cool hairstyle for little guys, you have to get his sides trimmed really short while maintaining some height.
The hair on top should be given noticeable length too. Gel it up on the hair on top and before pushing it together slightly at an angle and achieving a nice pointy appearance.
Buzz Cut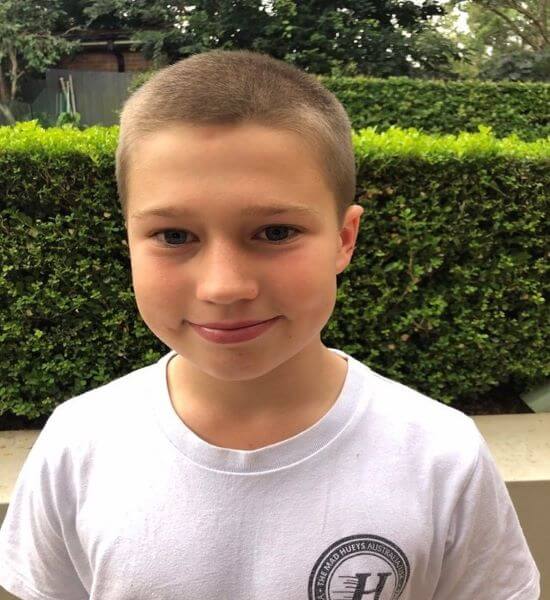 Source: Instagram
How often have you seen boys wearing a buzz cut hairstyle? This is probably among the best easy hairstyles for boys out there. The hairstyle doesn't really take too much time in achieving it and certainly makes a perfect choice for you.
The hairstyle can be achieved in a variety of shapes and lengths, and you can choose one according to your own preferences. It can be paired easily with an undercut, fade, or some hair design to achieve the kind of looks you have always wanted.
Whatever variation of the look you choose to go with, it remains a low maintenance haircut option and you won't have to get into any kind of hassles for maintaining the look throughout the day.
In fact, you can even go with a longish buzz cut style and secure it into place with a bit of mousse or gel for achieving extra texture and making it look chic.
Short And Textured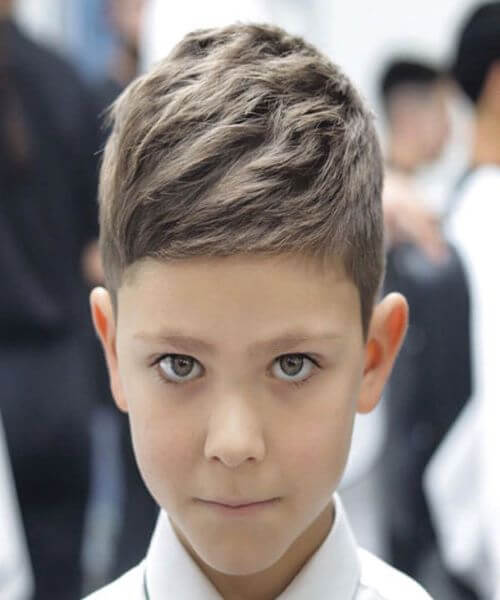 Little boys always look cute and stylish in short and textured looks. You don't really need to do much of styling with these hairstyles once you have a perfect haircut.
These hairstyles really make a perfect choice for boys with naturally dense hair who often have to take care of those cowlicks.
Now, as everything is simple and nicely cut with these hairstyles, you do not really have to worry at all about styling or maintenance. The best you need to do is to apply a bit of gel and achieve the look with a bit loose hold.
Baby Punk
Source: Instagram
Punk hairstyles have always made a perfect choice among those funky hairstyles for kids. However, they do look appropriate when achieved to perfection and make your little boys look cute.
For this beautiful hairdo, you need to have his sides buzzed really short while leaving enough length on top for styling the look appropriately. For styling these toddler haircuts, you will have to apply a bit of gel and simply mold it up to look pointy.
Messy Top With Surgical Lines
When you're a little boy, you have enough freedom to style yourself up in whatever way you like. There are no hard and fast rules to follow and you can go with anything that looks cool on you.
Just have a look at this beautiful hairstyle that keeps it a little messy on top while bringing it all into the center. In fact, it's given a bit of pointy touch too. You can create a little different visual impact simply by going with the surgical lines on the sides.
Keep the sides buzzed up and the top messy to achieve this low maintenance hairstyle. There is nothing so hard about achieving this beautiful look and you're surely going to love it.
Slicked Back Hairstyle
Source: Instagram
Your little boy has always loved a smooth and slick look? That's great! The best option for you here would be to give him a perfect haircut that reflects his personal style too.
You must have seen different slicked back hairstyles with long combed back hair styled with a lot of gel or any other styling product.
But for your little boy, you can always keep it minimal and stylish. Just have enough volume on top that can be nicely slicked all the way back and still looks gorgeous.
The top hair should be a bit longish as compared to what's there on the sides. Apply some strong hold gel or wax for styling purposes and ensuring that the look stays intact.
The hairstyle options never end for little boys and you can always pick some of the best cute boy haircuts for him. It's just the matter of exploring the right options for your little one and making sure that you give him a style that's true to his personality.
Don't try to over-commit and just keep things simple, stylish, and elegant. Pick from the kid's haircuts listed above, and see which of them would look the best on your little one. In fact, pick a few of them and style your kid's hair according to the occasion.