Do you always get a haircut that satisfies your sense of style? If you don't then it is highly likely that you are getting your haircuts at a wrong salon. Ever tried to get a haircut at a typical barber shop?
aspects, it is really important to get to the right place for having a haircut. It is quite possible that you might be ticking all the right boxes but still ending up with a not-so-great haircut. It is highly likely that you even with the picture of the desired haircut in your hand and knowing all the clipper sizes to be used. You may end up with a haircut that you simply do not love.

That is normally the case when you are visiting a salon. People often prefer visiting places or salons with "cuts" or "clips" in their name. They normally cater to a large group of audience. Due to that, the salon stylists tend to be generalists, and they know of a wide selection of hairstyles and haircuts. That may initially sound great, but you should always be looking for a specialist if you are interested in a perfect haircut every time. Instead of choosing a hairstylist who knows a range of different haircuts but can do an average job at achieving those looks. you should be after somebody who can do an excellent job at a few chosen hairstyles.

Now that is where the barbers step in. Mostly, barber shops have barbers that are trained specifically for cutting the best men's hair. They'd know exactly what men haircuts are popular and they also understand how different men's styles can be achieved to perfection. Besides, having your haircut at the hands of some experienced male barber is quite helpful as well due to the fact that they can relate to what you're looking for. Being a man himself. The barber will use his knowledge about men's hair for helping you decide which haircuts would work best for you.
Visiting barbershops is also much more than simply getting the first-rate haircuts. The experience that you get from the specialists at a barber shop is not possible anywhere else. Here you can relax in a nice and welcoming atmosphere which may not be possible at most of the salons out there today.
Besides, here we have listed the 6 major reasons as to why one should prefer getting a haircut at a barbershop and avoid anywhere else.
Male Barbers Know How Men's Hair Is Cut The Best
Salons often employ cosmetologists who have training in cutting men's hair and also in coloring, perming, as well as other different procedures. Most of the men do not need this type of service, rather they are looking for somebody who is great at giving a wonderful haircut.
Barbers have been trained specifically in cutting hair for men. Barber closely studied the hair types for men and they know exactly how different popular hairstyles are achieved. They know the classic hairstyles like pompadour and undercut inside out. They are also aware of what recommendations to offer on your queries. On the other hand, cosmetologists can only make vague and general recommendations. So, going with barbers is definitely recommended.
A Barber Shop Has Decidedly Masculine Environment
Have you ever enjoyed your visit to a salon? Probably not! It can be tolerable sometimes but it is painfully worst for the most part.
On the contrary, a barber shop is built to offer everything men would expect. The atmosphere of these shops is such that men can simply sit back and relax here while enjoying themselves and the overall experience.
Remember that every single barbershop has a different approach to this. Therefore, it is recommended that you must give a try to different shops in the area before settling down for one. Some of them feature sports memorabilia on the walls while others have plane walls. Nevertheless, they all maintain a decidedly masculine environment.
Visiting Barbershops Is A Unique Experience In Itself
Most of the hair salons today have cookie-cutter layouts. Once you have seen one of them, it means that you have probably seen all of them. They can be found in the supermarkets as well as shopping plazas and, therefore, they all have the same type of look. There is a generic atmosphere and, mostly the service is generic too.
Barbershops, however, have quite a unique experience to offer. Many of them are created in the historic buildings where you get the authentic feel and the atmosphere. Some of them tend to be contemporary and bright while others have a homey and vintage feel to them. Most of them have free refreshments on offer, and most barbers feel happy in having a conversation with you.
So, regardless of the environment you love, it is quite likely that you find a barber shop matching your own preferences.
A Barber Shop Gives You More Than A Simple Haircut
For men, the hair options are very limited when they visit a salon. They might just give you a haircut, a shampoo may be, and that is all. Other services, such as coloring, may not be needed.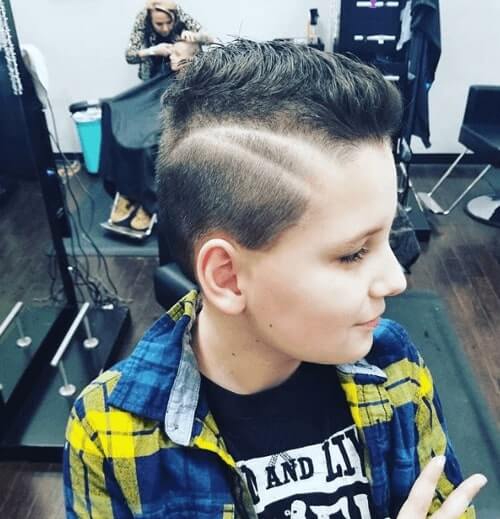 But barber shops generally offer services tailored specifically to gentlemen. Besides getting a nice haircut from somebody who is knowledgeable about men's hair, one can expect a mustache and beard trim, line up, scalp massage, and a lot more than that. Besides, you can also get a hot lather shave using a nice straight razor. You, probably, can never expect that at any salon. However, men consider it the most important and exquisite experience to be offered by a barber shop. Barbers, typically, give you a shave after every haircut and it is a nice and refreshing way of staying clean-shaved.
Barbershops Offer The Best Hair Products
Mostly, salons have the basic Hair products used for styling, like gels and shampoos. But if you want to use some of the best quality hair products, you may have to look elsewhere.
At most of the barber shops, you get the specialty hair products for men, such as mousses and pomades. Above all, your barber will help you determine which product would work best for you. For instance, if you're looking for the best pomade for your pompadour, they will guide you on that.
You Get The Best Value For Your Money At A Barber Shop
You might be tempted to visit salons that publicize their services in low rates. Most of them wouldn't charge you more than $10 for that basic haircut you would need every now and then. In fact, that's all you need sometimes. On the contrary, most barber shops would charge you around $15-$25 and even more sometimes.
However, you will get the best value in return as well. The quality of the haircut is just impeccable and second to none. You will walk out of a barber shop with a haircut that will simply amaze everyone. In fact, that is all you are looking for. This single factor only is enough to give you the value you have paid for.
Plus, you often get more than just a simple haircut at the barbershops. Yes, that hot lather shave is included in the standard haircut. So, the $15 you will pay is going to cover both your haircut and a clean shave. To make things even further, you can expect to get personalized advice about your hair as well. If you have always been confused about the hairstyle that best suits you, just ask a barber and they will guide you appropriately. Just don't worry if it seems a bit expensive initially, the service you will get at the end of the day will be well worth it.
Finding The Best Barbershop Around
Finding the right barbershop can be a real hassle sometimes. However, your simplest option is to read some reviews online and you'll have what you want. Websites like Facebook and Yelp have lots of reviews about barber shops in almost every locale. And, generally, they indicate what kind of service you can expect at a certain barber shop.
A barber shop is always a better choice when it comes to boys haircuts. You can also choose a salon but that may not give you the most fulfilling experience as you'd have expected. So, it is always better to go with the best barbershops around and get the perfect haircuts that meet your specific styling requirements.