One major hassle that you have to face in your daily routine is about the selection of best baby haircuts that will allow your boys and girls to make a statement. Yes, style is not something restricted to the grown-ups only and kids have every right to look stylish as well. And among all the style elements, the haircuts play a major part in making your little ones look stylish and beautiful as ever. There are plenty of hairstyles and haircuts that work for little kids and all you have to do is to choose the right kids hairstyles that would allow your little boys and girls to attract all eyes.
So, if you realize how important haircuts and hairstyles are going to be for giving your little guy or girl a charming personality, here we have listed some of the best haircuts for babies that would rule this year and beyond. Let's check out.
Textured Side Swept Hairstyle With Temple Fade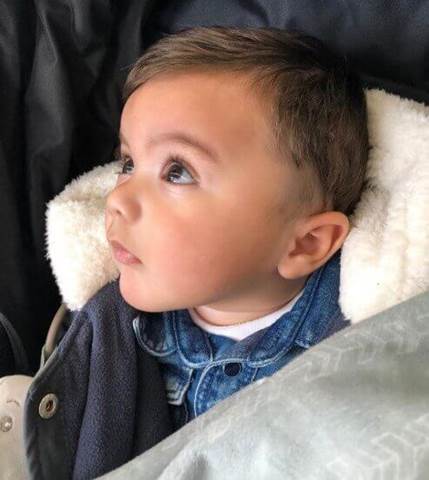 Source: Babysergiom
This probably is one of the simplest looks for little boys that would work on all occasions and in all scenarios. Short and simple, it's all casually swept to a side with a simple side part and creates a beautiful look overall. The natural texture creates an amazing vibe and it's kept sweet and simple. The temple fade brings in another element of style that makes the hairdo look really standout and amazing.
Wavy Combed Back Hairstyle With High Fade
Source: Cecyulloaa
Combed back hairstyles have always been a staple for kids' styling needs. And, you can give it an all-new look this year by styling the hairstyle with naturally wavy hair. You can keep it casual by not going with any styling product as that would make it look too shimmery and glossy. Instead, just run the fingers through his hair after shower and leave it as it is to achieve a naturally wavy and combed back hairstyle. The sides have a high fade which contrasts the top hair and gives a cleaner and more organized look overall.
Short And Textured With Side Swept Fringe
Source: Bigbro.rzn
This cool hairstyle is about trimming it all short everywhere right from the top to the sides and the back. The hairstyle boasts of some cool texture that is achieved with the help of some styling product to give it a bit sticky and glossy look. The hair on top is kept tight and close to the head as it's all angled towards a side casually. Remember, it's not an all-out side swept hairstyle and rather given a touch of that look. It's just the fringe that is swept to a side. The hair on the sides is faded and given a nice surgical design just around the temple area. Overall, every single element of the hairstyle blends in nicely and gives you something beautiful and amazing to flaunt for your kid.
Edgy And Textured Hairstyle With A Casual Part
Source: Lindsey_corsbie
This baby haircut is a perfect choice for toddlers with naturally straight and fine hair types. The hairstyle boasts of some length on top, though not a full-grown length, which is styled with a casual side part. An edgy look is created by trimming the lengths on top that way and the fringe creates a cool vibe when it falls over to a side. A high skin fade on the sides complements the overall hairstyle and allows your kid to make a statement on any day.
Casual Spikes
Source: Hair.by.amandac
Spikes hairstyles look stunning no matter what shape they get. This beautiful look is a perfect example of that. The hairstyle boasts of short-to-medium length hair on top and it creates amazing vibes as it's spiked up casually. The hairstyle requires you to use a strong hold styling product and also to get your kids' hair casually on top so that a perfect spiky look could be pulled off. A touch of elegance and beauty is also added by sweeping the frontal locks to a side and it will really look and feel amazing overall. The sides can be kept a bit heavy or you can go for a nice and simple fade there as well. The hairdo makes a perfect choice for special occasions, especially the casual events.
Blown Out Curly Top With Disconnected Fade And Design
Source: Stina.blendz
This beautiful hairstyle is about creating a perfect casual look with naturally curly hair. All have to do is to let his hair grow out wildly in all directions and then get him a disconnected undercut that is complemented with a beautiful surgical design. The naturally curly top itself looks amazing and it doesn't require too much of styling either.
Blown Out Bob
Source: Lovelylaila18
You may have heard about the medium bob hairstyles for girls, this is a perfect implementation of that. The hairstyle requires you to let your baby's hair grow to medium length all over and then give it a perfect bob hairstyle vibe letting it come down to the shoulders on all sides. A blown out look can be created by casually sweeping it all backwards with your fingers and not combing it through. It's certainly a perfect choice for those casual days and won't require you to put in too much of effort in styling.
Fade Haircut With Top Knot
Source: Isaac_pipa
If you are looking for the best baby haircuts around that create a more organized and stylish vibe, this should be your choice for sure. The hairstyle is a special option for parties and major events that you have to take your kid to. It's easy to style as well because you have to get it all trimmed tight to the skin on all sides while leaving some volume on top. The hair on top is then combed back and pulled into a beautiful knot pointing backwards. It looks amazingly stylish and doesn't require too much of maintenance either. You can add in a cool accessory to secure the top knot but it's up to you whether you want to keep it all simple or pull off something dramatic.
Grown Out Top With Disconnected Undercut
Source: Isaac_pipa
This is a cool hairstyle that is uniquely stylish as well. The hairdo requires your kid to achieve a perfect look with all grown out fine and straight locks on top. The hair on top is let to sprawl in all directions and that's what makes it look really amazing and stylish. On the sides we have a beautiful undercut which is nicely disconnected from the top and balances it all out by adding a bit of clarity and clean touch to the hairstyle.
Side Swept Hairstyle With High Fade
Source: Leyla.hanum_hairdresser
One of the best baby haircuts around, this one requires you to let your kid's hair to grow to medium length and then sweep it all casually to a side. You don't need to make it look puffy and thick on top and rather a perfect side swept hairstyle is what makes for a naturally textured and beautiful look. The hair on the sides is faded and you have to keep the fade high so that it balances out the length on top right from where it starts. It's a trendy look that your kid can sport today, tomorrow, and even months to come.
Polished Side Swept Hairstyle With A Hard Part
Source: Studio_lili
This cool look is about creating a more polished and glossy vibe by sweeping it all to a side and maintaining some cool texture achieved with the help of a styling product. The hard part on the side defines the look rather elegantly and that high fade on the sides makes it look even better. A true gentlemen look, this beautiful hairstyle won't require much maintenance once you have achieved it and the hair will remain right in place just where you have secured them with the help of a styling product. It just looks amazing and well-organized to look at.
Casual Spiky Hairstyle With High Fade
Source: Frostedhairsalon
One of the best casual hairstyles around, this beautiful hairdo is about cutting it all short on top, applying a hand full of styling product and sweeping the short locks forward while raising a few of them up. The hairstyle really creates a perfect vibe overall and can be secured into place with the help of a strong hold styling product. There is a slight surgical line that defines a casual part while the sides have a high fade to complement what's there on top. A perfect look for a perfect day, that's all we can say about this one to summarize!
Short Textured Quiff With Side Part And Fade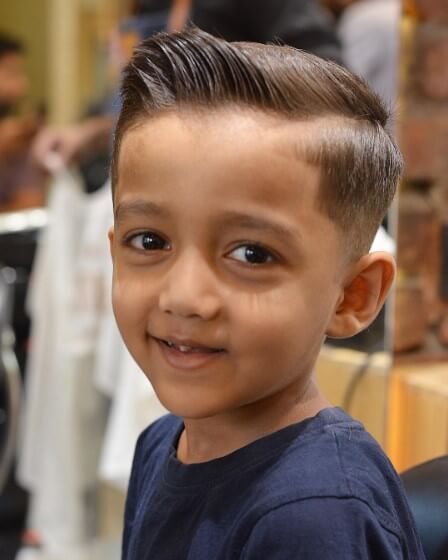 Source: Thebombayhaircompany
Yet another cool look that will make your little boy to flaunt a style that has its own unique vibe! The hair on top is trimmed short while the frontal locks is swept back into a beautiful short quiff that is secured into a textured look with the help of a strong hold styling product. It's pretty organized and it looks amazing as well. The side part and the mid fade complete the look to perfection and you can't ask for anything better than this to be achieved with short hair.
Combed Back Curls With High Fade
Source: Cubanstyle_barbershop
Curly hair is probably the hardest to style and this one here just makes it as seamless as it could ever get. The hairstyle boasts of short hair all over while the hair right on top is kept a bit longer than what we have on the sides. You have to make sure that you apply some shiny styling product on top and then run your fingers through it backwards to achieve a unique combed back look which makes the curls as evident as ever. The sides have a high fade which means you don't have any evident curls there but it nicely complements what's there on top and balances out the entire look rather elegantly.
Spiky Mohawk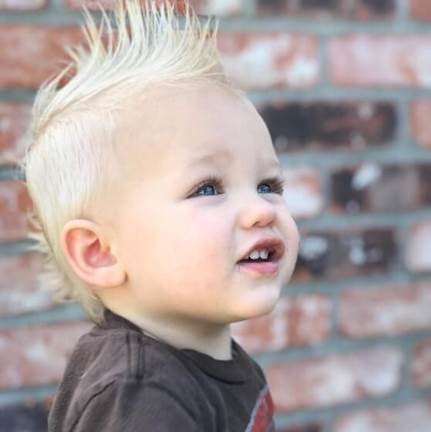 Source: Boondocksbarbershop
Looking for something funky for your little boy? What about this beautiful and typical spiky Mohawk look? To achieve the hairstyle, you have to make sure that your kid has some length on top and that it is spiked up with a strong hold styling product into a perfectly funky Mohawk. The spikes can be added to the back as well by leaving some length there but that's completely on your own discretion. The sides have a fade and it balances things out rather nicely as well. Want to make sure it's the funkiest look your kid can sport? Bleach his hair out and make it all white on top. Doing so will certainly draw all eyes towards him the soonest anybody gets a glimpse of him.
Choosing the right baby haircuts is always a bit challenging and you have to be spot on with your choices as well. You have to decide whether you want to keep it all formal or go for a perfectly funky hairstyle that makes a unique statement. In fact, you can even choose to keep a balance between both as well. With some of the coolest haircuts for babies listed above, it's your choice which of them you would want to give to your little one this year. Start scrolling!