All the commanders are responsible for ensuring that any and all military personnel.under their individual command must follow army haircut regulations and maintain a neat, soldierly appearance. All the armies around the world follow certain standards and regulations when it comes to appearance and uniform in order to maintain discipline. So, a well-groomed and neat appearance must be maintained by all the soldiers. Probably, one of the most important ingredients to the strength of any army and its military effectiveness remains to be their self-discipline and pride.
Within any military population, the requirement to maintain hair and grooming standards is necessary for maintaining that sense of uniformity. There are quite a lot of hairstyles that are acceptable only if they look conservative and neat. The leaders are responsible at all levels to practice good judgment and help enforce the Army policy. It is necessary for all the soldiers to comply with hair and other grooming policies while they are on duty.
The main idea of strictly restricted to a certain set of army hairstyles is that any hairstyle which doesn't allow the soldiers to wear their headgear properly must be avoided. Similarly, any hairstyles which interfere with wearing protective masks and any other such equipment should be avoided as well.
Similarly, if the soldiers have to use any tints, bleaches, or dyes, it is necessary for them to go with something that leads to natural hair colors. The leaders are responsible for determining which of the applied colors must be acceptable depending on their overall effect on one's appearance.
There are a lot of other things that should be taken into consideration when deciding on a haircut that fits perfectly to the army hair regulations. Now whether it is for the army personnel, or you are looking for some of the best kids hairstyles that can give your little ones a similar feel, here we have detailed everything you need to look into.
Army Haircut Regulations
As mentioned earlier, the hair regulations for the army are all meant to maintain a level of uniformity in the military population of the country. There are certain grooming policies and standards that must be followed. There is an official document which highlights all such information and serves as the standard for the members.
However, as not all the personal appearances or hairstyles may not be detailed in the said document, the commanders have to take the lead and ensure that any military personnel serving under their command must have a neat appearance.
So, even when specific guidelines and procedures to gauge the acceptability of a particular style are not there, commanders can practice their own judgment and decide if the hairstyle qualifies as a military haircut or not.
Army Haircut Standards For Males
As far as the official army regulations are concerned, the personal appearance should be determined based on appropriateness of following guidelines and if the hairstyles allow for properly wearing all military headgear and the protective headgear or not. Here are a few points to consider when it comes to deciding on the legality of a military haircut.
Hairstyles that don't allow the soldiers to properly wear their headgear are not allowed. This applies to any and all the hairstyles in which the hair bulk or length interferes with headgear fit.
Headgear should also fit comfortably and snugly without any distortion or bulging from intended headgear shape or without any excessive gaps.
Any male hairstyles that cause safety or health risks aren't authorized in any case whatsoever.
Extreme, faddish, or eccentric haircuts aren't approved either by the army haircut regulations.
Hair color should also remain natural or should be used with tint, bleach or dye which reflects some natural color. Artificial, unnatural hair colors which detract from the professional army appearance are not allowed.
Hair Color Regulations
As outlined in the army haircut regulations, it is not allowed for the soldiers to change the color of their hair to something outlandish like purple, green, pink, bright red, orange, or something else like these.
It is expected from the leaders to rely on their judgment for determining whether or not the color of the hair is appropriate.
The Parting Guide
The hairstyles should have a part cut when the hair texture doesn't allow for a natural parting. However, the parts should only be created in a straight line and there must not be anything curved or slanted.
In addition, you also need to understand that army hair regulations need you to acknowledge the fact that hair should have a more tapered look. Tapered haircuts are the ones in which the outline conforms to the shape of your head and curves inwards to its natural point of termination.
Anything that is combed and still falls over your eyebrows or ears, or touches your collar, is not acceptable. In addition, the singular haircuts that come without any tapered hair patch on top are not acceptable as an army haircut. Horseshoes and Mohawks are considered typical examples of the haircuts that are not allowed in the army.
Besides, all the forces have a different set of regulations to follow and you should, therefore, understand what each of these is all about. Let's have a look at haircut regulations for Air Force, Navy, Army, and Marines.
Air Force Haircut Regulations
It is necessary for the Air Force members to have a hairstyle that is clean, neat, and very well-groomed. Tapering should be done with the hair around the nape area and just above the ears. The hair must not touch the eyebrows, ears, and collar other than the ones tapered closely. The bulk as well as the length of hair should not interfere at all with the headgear so that it can be worn properly. Even if the hair is colored, it should look natural while complementing the complexion of the person at the same time.
Navy Haircut Regulations
Just like the Air Force, the Navy also has haircut regulations to be followed and hair must look neat and clean and should have a well-groomed look. Tapering should be done with the hair right above your ears as well as the nape area. Remember that you should start tapering upwards of the hairline ¾ inches, at least. Sometimes, you can combine taper and a line around the neck area if a typical taper is hard to achieve due to the texture. The length of hair must not go beyond 4 inches and should be kept apart from the ears, eyebrows, and the collar. The bulk and the length of hair should not interfere with the headgear. The styling shouldn't be done in a way that the hair is allowed to extend beyond a couple of inches from the scalp. The color of the hair should also look natural and must complement overall appearance.
Army Haircut Regulations
Coming back to the regulations for army haircuts, they must all comply with the Army standards. It requires the top hair to be groomed neatly while making sure that it is not spiky, trendy and disheveled at all. Tapered hair is the standard and it should conform to your head shape and the tapering should also be done around the neckline. The hair shouldn't fall over your ears and it must not also touch your collar either. The standard remains the same with the other two forces discussed above. For most army men, an Ivy League haircut or classic taper hairstyle remains the go-to choice. The men in the army can't wear hairpieces or wigs except for covering their hair loss triggered by medical procedures and accidents or natural baldness. All the hairpieces and wigs should also follow the standard regulations for army haircuts. In the case of hair colors, natural shades should be preferred.
Marine Haircut Regulations
According to the marine grooming standards, the hair should be graduated evenly from zero-length around the hairline area without any edging or outline. The hair length can't be greater than 3 inches and you should not style it in a way that it protrudes more than a couple of inches from scalp. The styling of hair shouldn't also be in a way as to protrude underneath the headgear. If there are any hair colors applied for styling purposes, it should look natural while complementing the complexion of the person. It is not necessary for marines to have their hair clipped except in the recruit training phase or if the medical officer orders so. However, if the marines prefer to have the hair clipped to their scalp, they can definitely do so.
Examples Of The Best Army Haircuts
So, you now know all the army haircut regulations and how you should be taming your kids' hair for their next stylish look. Just follow these regulations and you'd definitely be up for some special hairstyle variations for your kid this season. To make the job easier for you, here we have top 5 examples that you must consider.
Swept Back Hairstyle

You do not always have to trim it very short all over in order to qualify for a military haircut. In fact, as long as it goes by the regulations set forth by the officials, you're good to go. So, here is one army-inspired look with slightly longish hair on top and you should definitely be planning to give to your kid this season. In fact, the hair on top is kept to medium length and it is swept all the way back before applying a styling product to keep it in place. The sides have a low fade which makes the haircut very clean and it gives a classic feel at the same time.
Front & Center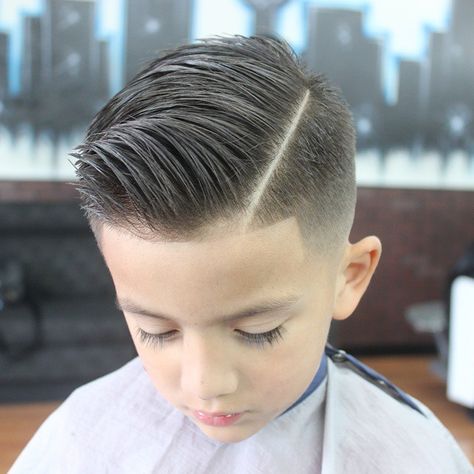 This one is more of a classic hairstyle for the military-inspired kids. The hairstyle finds its roots in typical Ivy League haircuts and it creates a unique vibe of its own. Obviously, it qualifies to be called more regal and is often linked with leadership. To achieve it to perfection, you have to make sure that the hair on top is kept slightly longer while the remaining hair is trimmed short.
Short Haircut With A Side Part
What's best about most of the short haircuts is that you can style them pretty easily on any day. For anyone with straight hair, you just need to brush it up towards a side and then simply let the hair dry. Applying light hold hair gel or a pomade would do the job nicely in the end. It will definitely help keep that side part in its place to perfection. Overall, your kid is definitely going to rock this look.
Army Haircut With A Hard Part

Army haircuts can take any shape and form as long as you stick to the regulations outlined above. There are only a few basic rules that you need to stick to and if you're able. You'll still be able to allow your kid to show off all the uniqueness in their personality. through some adjustments here and there to a classic look. If you talk about this particular variation, the side part is achieved diagonally to add some extra definition to this hairstyle and that's exactly what you need for such short hairstyles.
Slicked Back Army Haircut

It is another great hairstyle that brings back those bygone eras. The major highlight of this wonderful hairstyle is the stark difference in the hair lengths. To make sure that this classy hairstyle works fine for your kid, just go with a high & tight look while keeping
Now that you know all the army haircut regulations. You should keep all these rules in mind before giving your kids the best army haircut styles out there. Some. of these typical hairstyles may be called army haircuts commonly. But if they do not live up to the rules outlined here then you should give them second thoughts. So, consider all your options and decide which haircut you are going to give to your kid next.